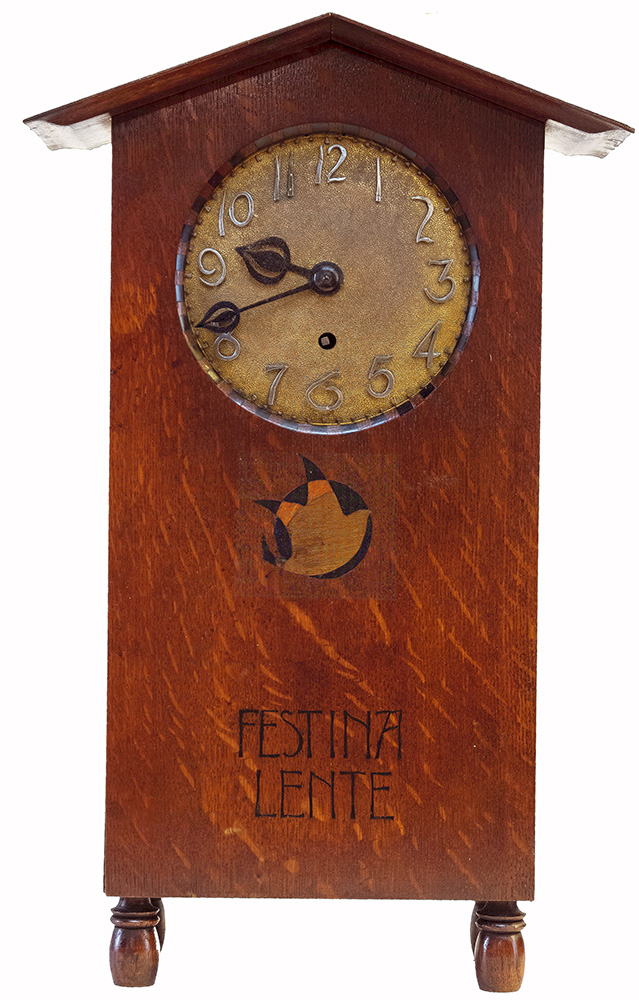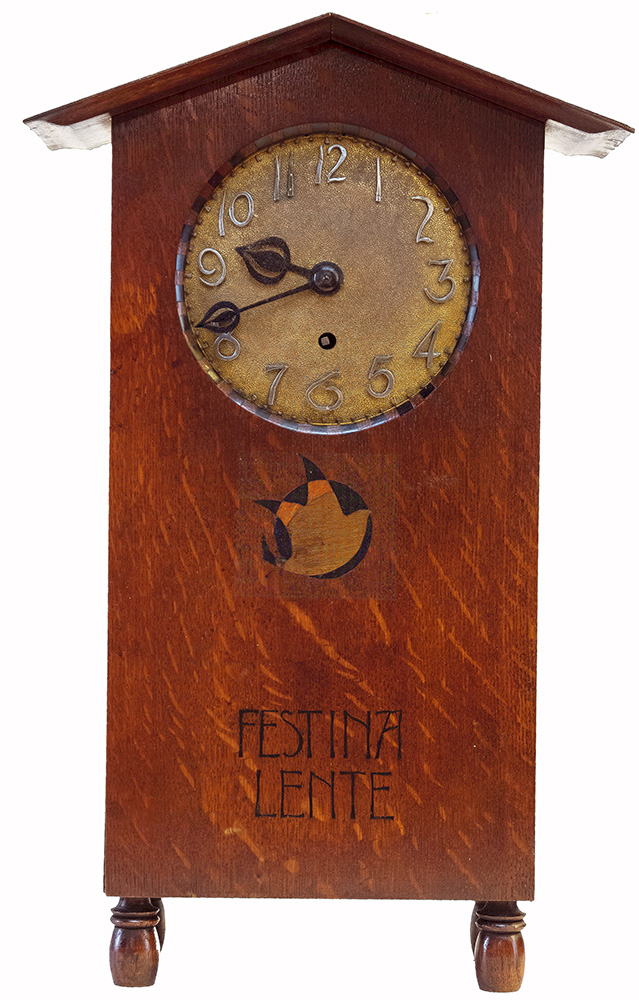 Pyghtle Works mantel clock
Art Funded

2018

Vendor

Paul Reeves
Mackay Hugh Baillie Scott was one of the most respected and influential architects of the Arts and Crafts movement.
He studied in Bath and on the Isle of Man, where he set up his first practice in the early 1890s.

In 1901, Baillie Scott moved to Bedford, partly attracted to the town by the presence of JP White's Pyghtle Works, a celebrated joiner's shop which had been making Baillie Scott's furniture since at least 1898. In 1901, the firm published a special catalogue illustrating more than 80 of Baillie Scott's Arts and Crafts designs.

This mantel clock is one of the rare surviving examples of Baillie Scott's pieces, numbered 26 in the Pyghtle catalogue. It was the only clock among all the items illustrated, with the price dependent on the chosen finishes. This clock is made from oak, but the only other known example (held by the V&A) is in mahogany. The simple shape of the piece is typical of the Arts and Crafts style, with restrained decoration in the form of an inlaid swallow and the Latin inscription 'FESTINA LENTE', which translates as the saying 'more haste, less speed'.

The Cecil Higgins Art Gallery, now part of the Higgins museum and gallery complex, has strong holdings of furniture and objects by other leading Arts and Crafts designers. Baillie Scott's Bedford connections and the history of the clock's manufacture at the Pyghtle Works make this piece a major addition to the collection.
Artists include
Provenance
J.P White, The Pyghtle Works; Private Collection; Christopher Vickers, Somerset; Paul Reeves, Cirencester.