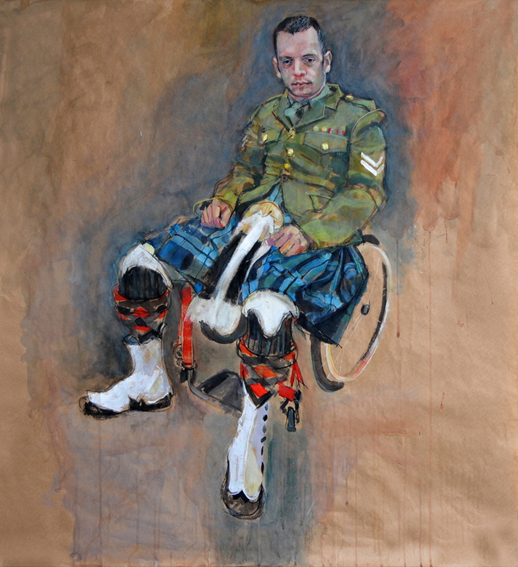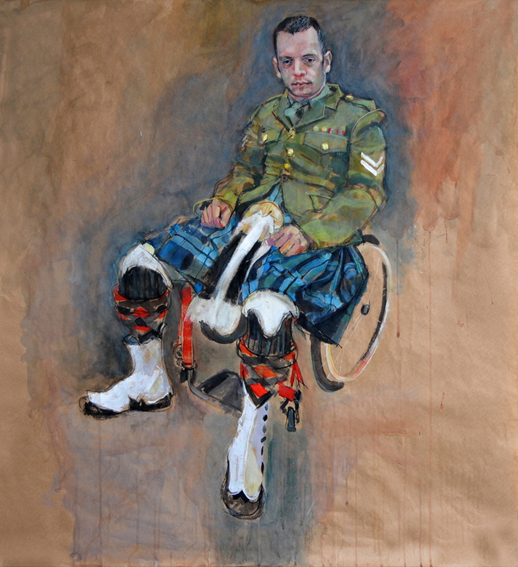 Portrait of Corporal James Smith
Art Funded

2018

Dimensions

90 x 100 cm

Vendor

Tom McKendrick
These three portraits of Scottish soldiers are part of a project by artist Tom
McKendrick to paint 100 men and women who have served their country.
McKendrick planned the series in the lead up to the centenary of the First World War and has painted soldiers who have served from the Second World War right up to the most recent conflicts.

The soldiers depicted in the works acquired all served in Afghanistan as members of the Royal Regiment of Scotland. Sergeant Craig Sharp MC, who led a successful raid on a Taliban-held village, is one of only 13 members of the regiment to be awarded the Military Cross. Corporal James Smith had his legs amputated after he was caught in an IED explosion and now works as a driver. Warrant Officer 2nd Class Terry Lowe, who was injured in an IED explosion, now campaigns to raise awareness of combat stress.

McKendrick trained at Glasgow School of Art and is known for the rich diversity of his work, using materials as varied as clay, welded steel, watercolour, oil, electronics and kinetics. These portraits now join the collection of the Museum of the Royal Regiment of Scotland, an institution which documents the history of the regiment.
Provenance
The artist.