Why young people need access to culture
Janie Airey / Art Fund 2021
Art Fund's Energise Young Minds campaign is building on previous initiatives to support UK museums and galleries to engage with young audiences, our director writes.
We all remember our childhood visits to museums and galleries. For me it was the excitement of being in the Science Museum, with its myriad buttons to press and levers to pull; huge dinosaurs at the Natural History Museum; the grandeur of Kenwood House, with Vermeer and Rembrandt in the drawing room and a false bridge on the lake.
I remember one special trip to the William Morris Gallery in Waltham Forest for a school project on the Victorians and being overwhelmed by the polymath brilliance of William Morris.
These visits opened new worlds of exploration and imagination for me; they were exciting and they inspired a lifelong passion.
Participants at a family workshop, Foundling Museum, London
© The Foundling Museum
All young people should have the opportunity to enjoy museums as places of inspiration, education and fun. Access to culture enriches young minds, fuelling creativity, confidence and curiosity. However, it is far from certain that the next generation will have these same advantages unless we take action now.
There is an almost perfect storm brewing. In a survey conducted before the pandemic, 90 per cent of schools said they had reduced their arts provision. Then the Covid-19 lockdowns made school trips to museums and galleries impossible. It is not clear that they will resume at anything like the level they were at pre-pandemic. Meanwhile, cash-strapped cultural institutions have had to make difficult choices too. Since Covid lockdowns started, the second-highest area of redundancies in museums has been in Learning teams. Will children growing up today have the same opportunity to learn from and be inspired by museums?
Already, many of you, our valued members, are making a huge difference. This autumn we launched our urgent appeal to raise £1 million to boost our grant-giving and support to help museums and galleries reconnect with schools, families, students and young people. Art Fund has committed £500,000, and, with your help, we hope to raise a further £500,000.
All young people should have the opportunity to enjoy museums as places of inspiration, education and fun
All the money raised will go directly to help museums, galleries and historic houses across the UK to inspire the next generation and enrich their futures, harnessing the power of creativity and learning across all subjects. Museums and galleries hold magnificent collections of art and design; they also encompass science, technology, nature, sport, history, industry and more. They are able to energise young minds across all these important areas.
We've already been helping museums in this domain. Our Student Art Pass is connecting more than 25,000 university students with culture, and providing them with paid creative opportunities with museums, arts organisations and events. Through our new Teacher Art Pass pilot initiative, we're giving 1,000 school teachers nationwide the ability and educational resources to connect their classes with all that museums can offer. We would love to expand this initiative so that more teachers and children can benefit.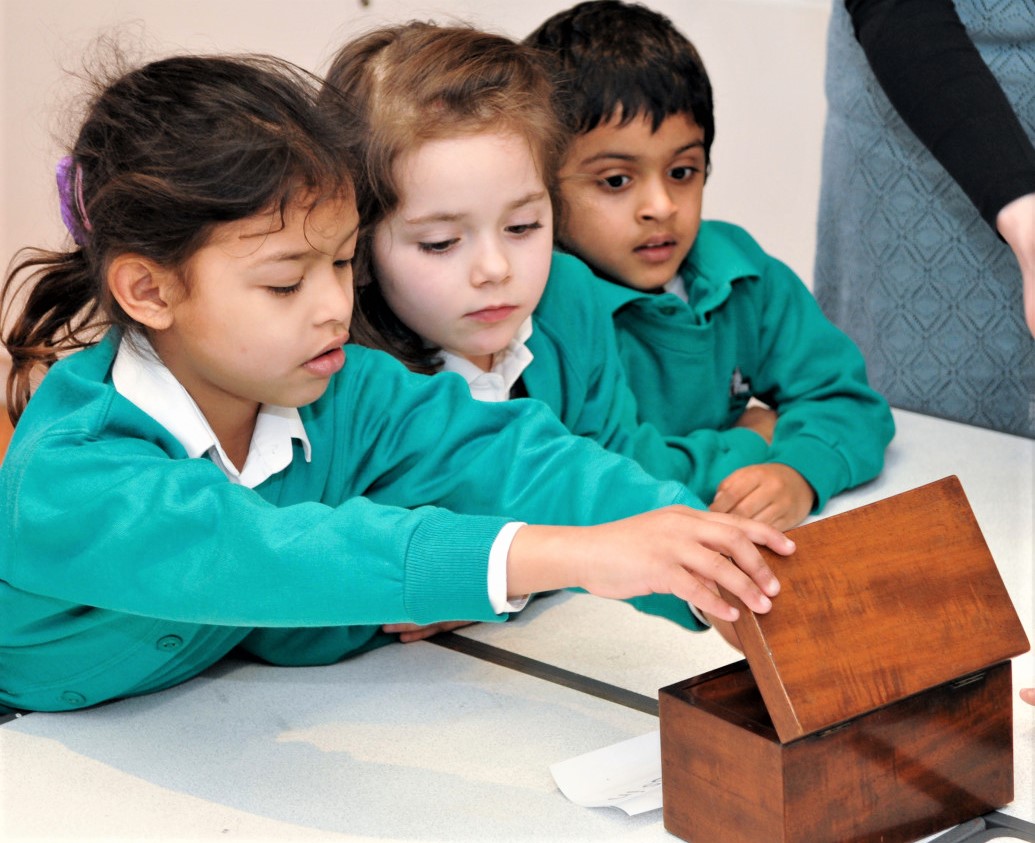 Local school pupils in Bath, engaging in Holburne Museum's outreach learning programme
Courtesy Holburne Museum
The urgent need from museums is clear. Of our 2020 emergency Respond and Reimagine funding grants, 45 per cent went to museum projects engaging with young people and new audiences. Of the projects funded by the £690,000 recently given in the first round of our 2021 Reimagine grants, a number will focus on families, schools and young people.
For example, engaging young people in the community will be at the heart of a project at the Charles Causley Trust in Cornwall focusing on creative writing.
At Ely Museum, Cambridgeshire, a creative project in collaboration with pupils at local secondary schools will produce work that will be displayed at the museum. There will be family sessions at weekends and during the school holidays, and monthly sessions for under-fives encouraging young families to feel at home in the museum.
The Vindolanda fort in Hexham will create an online children's exhibition in partnership with Newcastle University and Creative Assembly for seven- to 11-year-olds. The Story Museum in Oxford will work with young people aged 14-18, exchanging skills in curation and narrative gaming, using the collection as inspiration to create three new digital story realms in the video game Minecraft.
Digitising the Royal Welch Fusiliers Museum collection will provide valuable resource for outreach to schools and other community groups. And in partnership with the Royal Parks and Mayesbrook Park School, RIBA will mark the centenary of the Becontree Estate in east London with events and learning programmes.
A young visitor at Firstsite, Colchester
© Marc Atkins/Art Fund 2021
There is no shortage of great ideas. Firstsite in Colchester, the winner of Art Fund Museum of the Year 2021, is a prime example of creative thinking, undertaking inspirational work with children and young people over the past year. This included inviting everyone to turn their windows into a nationwide gallery during lockdown and engaging artists to help make art activity packs for children to get creative with at home, as well as running holiday clubs for local kids. The attention and support we've been able to give to Firstsite and all the Museum of the Year finalists as part of our charitable programme will help them to continue their work with young people.
If you are passionate about inspiring the next generation, please visit our campaign page. Any donation, of any size, will have a huge impact on energising young minds by connecting them to museums and galleries across the UK. Thank you so much for your support.
---
Art Fund is currently fundraising to raise £1 million for museum projects that inspire young people.
Thanks to a generous supporter, we're now able to match-fund new donations – so anything you give from 8 February 2022 until 31 March 2022 will be matched pound-for-pound, making twice the impact. Find out how you can help #EnergiseYoungMinds.
---
A version of this article first appeared in the winter 2021 issue of Art Quarterly, the magazine of Art Fund.