Your support in action – autumn round-up 2023
Norfolk Museums Service (Norwich Castle Museum & Art Gallery)
From a contemporary stained-glass work to a Dutch Golden Age masterpiece, discover four works of art that we've been able to help museums acquire recently thanks to the support of Art Fund members and donors.
Our autumn round-up features three incredible works of art and one stunning object that museums across the UK have been able to add to their collections recently, with the support of a grant from Art Fund.
Although these works span different periods, genres and themes, they've all been created by artists and makers who are pushing the boundaries of what their respective mediums and crafts can achieve.
Want to see more? In Art Quarterly, our exclusive magazine for Art Fund members, we publish details of every work of art we've helped museums to buy and share with the public, thanks to the vital support of our members and donors.
And don't forget, you'll get great benefits at lots of these venues when you visit with a National Art Pass.
A Dutch Golden Age masterpiece for Norwich
A work by one of the most influential 17th-century Dutch landscape painters, Jacob van Ruisdael's Panoramic Landscape with Cornfields and Dunes Beside the Sea (pictured above), has been acquired by Norwich Castle Museum & Art Gallery with Art Fund support.
Having been in a private collection in Norfolk's Narford Hall since at least 1840, it is now on permanent public display in a gallery dedicated to the influence of Dutch Golden Age landscapes on 18th- and 19th-century painters in East Anglia, including the Norwich School of Painters, which featured key figures such as John Crome, Robert Ladbrooke and John Sell Cotman.
The drama and movement of nature is deftly captured through the billowing clouds and patches of golden sunlight gleaming on the corn fields below, where people are working the crops in a low-lying coastal village. The work holds art historical significance as it was made when landscapes became the subjects of paintings, as opposed to being purely ornamental backdrops.
A subversive stained-glass work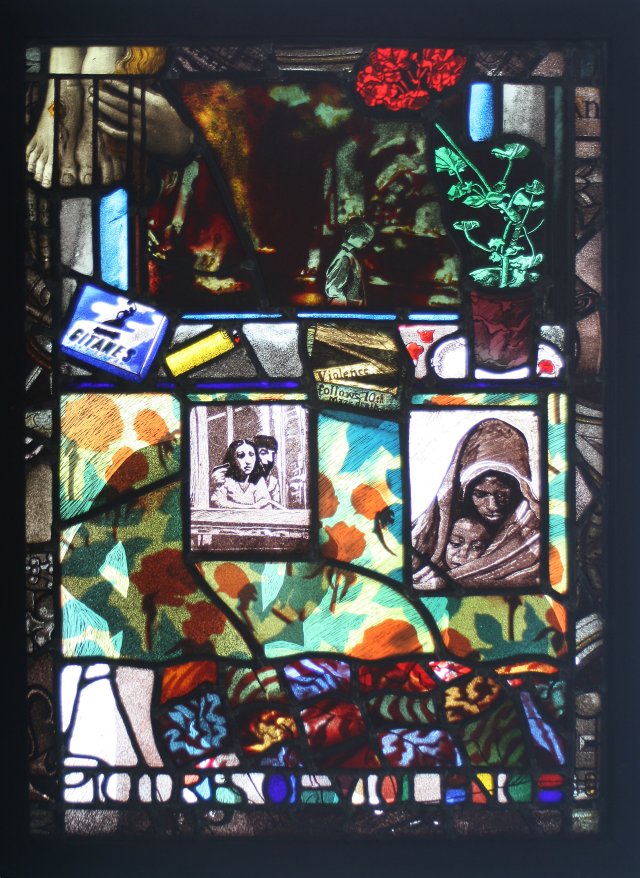 Rosalind Grimshaw, Pictures of Violence, 1982
The Stained Glass Museum, Ely © Rosalind Grimshaw Estate
Richly layered in colour, imagery and meaning, Pictures of Violence by Rosalind Grimshaw is a stained-glass work depicting scenes of violence from significant 20th-century events, including The Troubles in Northern Ireland, the widespread famines in Ethiopia and the Iran hostage crisis. The border is made of recycled fragments from 19th- and 20th-century church windows shattered by an IRA bomb. An image of Christ's feet nailed to the cross can be seen in one of these pieces.
The work had been on loan to the Stained Glass Museum in Ely since 2007; with the help of an Art Fund grant, the museum has now been able to acquire it, expanding the number of works by women artists in the collection and demonstrating the medium's potential to engage with complex contemporary issues.
A clay painting by Phoebe Collings-James
Phoebe Collings-James, How many times can I surrender to you? (Your living has taught me how not to die), 2021
Photography: Tim Bowditch. Courtesy of the Artist and Arcadia Missa, London.
Contemporary artist Phoebe Collings-James calls this work a 'clay painting', reflecting her desire to push the medium in new ways. Its five highly textured ceramic panels contain an abstract image, which Collings-James has said represents a figure stretching itself 'in polar directions'. The title – How many times can I surrender to you? (Your living has taught me how not to die) – comes from a poem by the artist, while the additional line in parentheses is a lyric from the song Nothing Beautiful by Beverly Glenn-Copeland.
In 2022, the work featured in York Art Gallery's exhibition Body Vessel Clay, which brought together work by three generations of Black women artists working in ceramics.
With the support of an Art Fund grant, it is the first work by Collings-James to enter a UK permanent collection. It also marks a positive step in York Art Gallery's policy to acquire works by artists of underrepresented backgrounds.
A rare royal pistol made for James II
Flintlock holster pistol by Andrew Dolep, c1687
© Board of Trustees of the Armouries
James II's brief three-year reign as King of England, Scotland and Ireland means that his personal items are incredibly rare. This lavishly decorated holster pistol is therefore of significant national importance and, with the support of an Art Fund grant, joins the Royal Armouries Museum's collection in Leeds.
It was made around 1687 by Andrew Dolep, a leading gunmaker of the time, whose short working life makes the guns he created even rarer to find today. The body of the gun is made out of walnut and it is mounted in silver, with inlaid silver wire decoration in a Baroque style which was common in royal commissions of the time. James II's initials and a motto associated with him are engraved in the escutcheon.
The pistol joins the collection's only other item related to James II, a harquebusier's armour, which is currently on display in the Tower of London.