Audiences
How student opportunities benefit museums and young people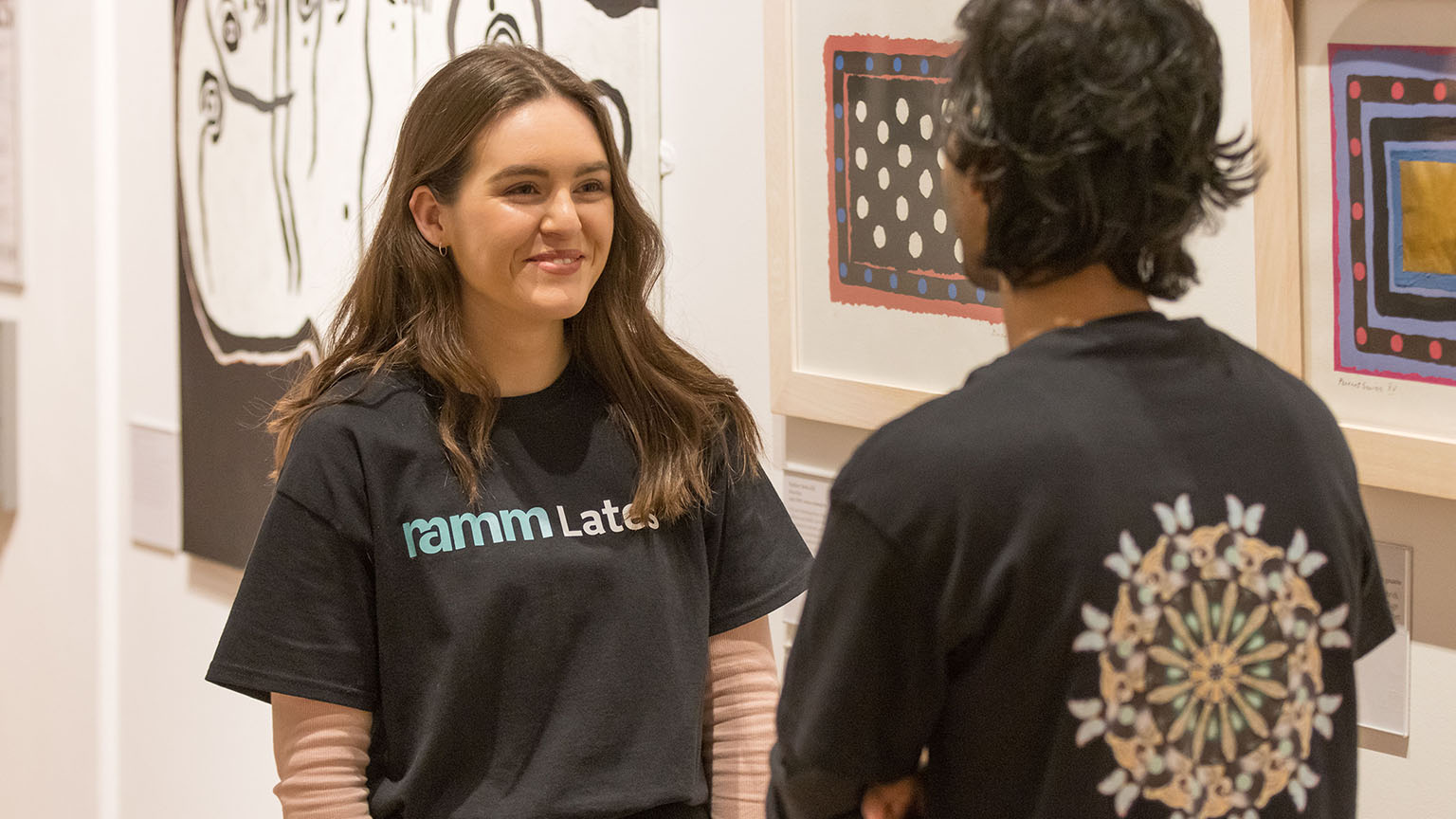 Hester Musson finds out how an Art Fund Student Opportunities grant helped the Youth Panel at Exeter's Royal Albert Memorial Museum launch a series of creative projects.
Engaging younger adults can often be a challenge for museums and galleries, whose regular visitors tend to be older and have a higher disposable income. Through the Student Art Pass, launched in 2017, Art Fund has been helping overcome barriers around price and awareness for young audiences, discovering along the way a keen appetite among its members for more active involvement in culture and the arts.
The Student Opportunities grants aim to bring university students and organisations together in a way that benefits both, and in 2019 the Royal Albert Memorial Museum & Art Gallery (RAMM) in Exeter was awarded funding to recruit its first ever Youth Panel.
RAMM's first Youth Panel, with skills development officer Sophie Harbour (far right)
© RAMM
Engagement officer Sophie Harbour explains that while the museum has always worked diligently to reach diverse audiences, 'younger audiences have traditionally been much harder to engage with'. The panel, comprising 14 local students (12 paid and two volunteers) from diverse backgrounds and studying a range of subjects, was formed to bring youthful perspectives to the co-curation of a programme aimed at 18- to 25-year-olds.
The scope was ambitious. Over the course of 12 months, the panel was tasked with organising two youth-orientated events, running a social media campaign to draw in young people, curating a themed trail and assisting in exhibition planning. On top of that, the panellists were asked to assist in improving RAMM's visitor experience for young people and also its engagement with them outside the museum, as well as planning a recruitment strategy to attract future Youth Panel members.
A number of key on-site collaborations were realised before Covid-19 closed the museum's doors in March 2020. The student takeover of the RAMM Lates event drew its biggest-ever crowd and the highest number of young attendees. The evening included music, dance, talks, meditation sessions, creative workshops and a giant walk-in camera created by the artist Brendan Barry. The artist also worked with the students on one of their exhibition projects. 'Shots Taken: Books, Bars and Beyond' documents the less-publicised side of student life through the panel's own photographic work. It was made available online and in the RAMM café.
From the exhibition Shots Taken: Books, Bars and Beyond, 2020-21
© RAMM
While Covid-19 forced adaptations to the programme, the restrictions also threw up exciting new ideas. There are plans to develop a trail through the city rather than the museum, which the panel felt would appeal more to their age group. For the second youth-focused event, which unavoidably moved online, the students took over RAMM's social media as part of 'Kids in Museums' day. The focus was on keeping young people inspired during lockdown, including discussions on online exhibitions, drawing tutorials and a Korean Kimbap (seaweed rice roll) masterclass, inspired by the recent 'Sea Garden' exhibition. Harbour puts the day's huge success down to the students' professionalism, and the fact it 'was also very different from our usual social media output'. The panel reviewed the museum's current social media content and, feeling more personalised and interactive elements were needed to engage young people, designed campaigns throughout lockdown that involved exploring the collection, interviewing members of staff and sharing personal stories.
Harbour is in no doubt of the benefits brought to RAMM by the students, saying their 'fresh perspectives and new ideas have enriched both the museum team and the overall museum output'. For the students themselves, the experience was invaluable for both their personal and professional development. Vishal Ranjan appreciated 'the opportunity to develop and hone multiple skills such as public speaking, video editing, planning and organisational skills', while Laura Fagan 'valued the freedom and support we were given as a panel to implement our ideas'. It's telling that many chose to continue on a voluntary basis until June last year, six months after the official end date.
Harbour looks forward to the contribution of future panel members as the sector slowly recovers. 'It is going to be more important than ever to have young people helping to shape the direction and programming of cultural organisations.'
Student opportunities are made possible by Art Fund supporters. Thanks in part to a generous legacy, more are planned for the next academic year.
---
Inspired by this story?
Art Fund is currently fundraising to raise £1 million for museum projects that inspire young people.
Thanks to a generous supporter, we're now able to match-fund new donations – so anything you give from 8 February 2022 until 31 March 2022 will be matched pound-for-pound, making twice the impact. Find out how you can help #EnergiseYoungMinds.
---
A version of this article first appeared in the autumn 2021 issue of Art Quarterly, the magazine of Art Fund.
Royal Albert Memorial Museum & Art Gallery, Exeter, Devon. Free to all, 50% off exhibitions, 10% off in shop and 10% off in café with National Art Pass.