A closer look at Derek Jarman and Prospect Cottage
With our crowdfunding campaign to save Derek Jarman's Prospect Cottage underway, writer Simon Watney offers an introduction to Jarman's life and work, and the significance of this remarkable place.
Derek Jarman (1942-94) was a creative force across a huge range of media: a successful filmmaker and artist; a set and stage designer working extensively in cinema, theatre, ballet and opera; a prolific diarist; and the creator of one of the UK's most celebrated gardens at Prospect Cottage, Dungeness.
A student at King's College London and the Slade in the early 1960s, he was part of a group of young painters including Patrick Procktor and David Hockney, and as early as 1967 he was hired to produce set designs for Jazz Calendar by Frederick Ashton at the Royal Ballet – and later the sets for Ken Russell's The Devils (1971), Savage Messiah (1972) and The Rake's Progress (1982).
Film was the language in which he expressed himself most eloquently, and in this respect he was a true son of post-war Italian directors including Federico Fellini and Pier Paolo Pasolini, whose work he revered. Like that of director Michael Powell, his was a world of fantasy and poetic imagination, far from the earnest mainstream of British cinema, and grounded in a love and knowledge of European cultural history.
He created a remarkable body of work – from his first experimental Super 8 shorts, to his first full-length feature film Sebastiane (1976) and his last, Blue (1993); to music videos shot for artists including the Smiths, Pet Shop Boys and Marianne Faithfull.
His pioneering approach inspired the annual Film London Jarman Award, founded in 2008 to support artists working with moving image and to celebrate the spirit of experimentation and innovation in the work of UK-based artist filmmakers.
From the mid-1970s onwards Jarman was heavily involved in gay rights and AIDS-related politics, especially as a spokesperson for people living with AIDS before the emergence of effective anti-HIV treatment drugs in the early 1990s.
A natural activist and self-elected outsider, he responded with fury and wit to AIDS-related prejudice and discrimination and was a vocal supporter of both ACT UP and OutRage.
Jarman and Prospect Cottage
Jarman discovered Prospect Cottage while visiting Dungeness in 1986 with his friend Tilda Swinton, who spotted a 'For Sale' sign, and it quickly became a source of inspiration.
A refuge for Jarman, his friends and fellow artists, the cottage was a creative hub where his parallel artistic practices came together. In The Garden (1990), Jarman's powerful film that examines repressive attitudes towards homosexuality alongside his own feelings towards the church, he compared the stark landscape to the Garden of Eden. His diary Modern Nature (1991) shares the joy he found in working on the garden against the pain he experienced as he and many of his friends contended with AIDS.
And he incorporated objects found on Dungeness beach into sculpture and painting, using tar to embed driftwood, shells, glass and barbed wire into canvas. These paintings took on an almost performative element, with the Dungeness coast a stage.
Derek Jarman at Prospect Cottage
We lit the bonfire with driftwood and boiled up the tar as the sun set. In the gathering shadows we completed new paintings: a mirrored Coke can surrounded by demons; and a ship in a bottle – filled with black gold and smashed. The glass fell on to the canvas like a tallship in full sail; the tar eddied about it, the broken masts of the ship swallowed in the black – black that breaks down forms and distinctions, swallows shadows' – Derek Jarman, 1991, Modern Nature: The Journals of Derek Jarman
The vast shingle beach at Dungeness is one of the driest places in the UK and as such a site of Special Scientific Interest. Jarman's garden is a remarkable achievement that challenges its environment and is thus an act of defiance, a fragile work of art which is also profoundly symbolic of human vision and endurance.
Nor is its significance only horticultural, for he was acutely conscious of the ancient emblematic significance of all forms of wildlife – something which informed much of his work – and the planting at Prospect Cottage was deliberately designed in counterpoint to the nearby nuclear power stations at the end of the headland.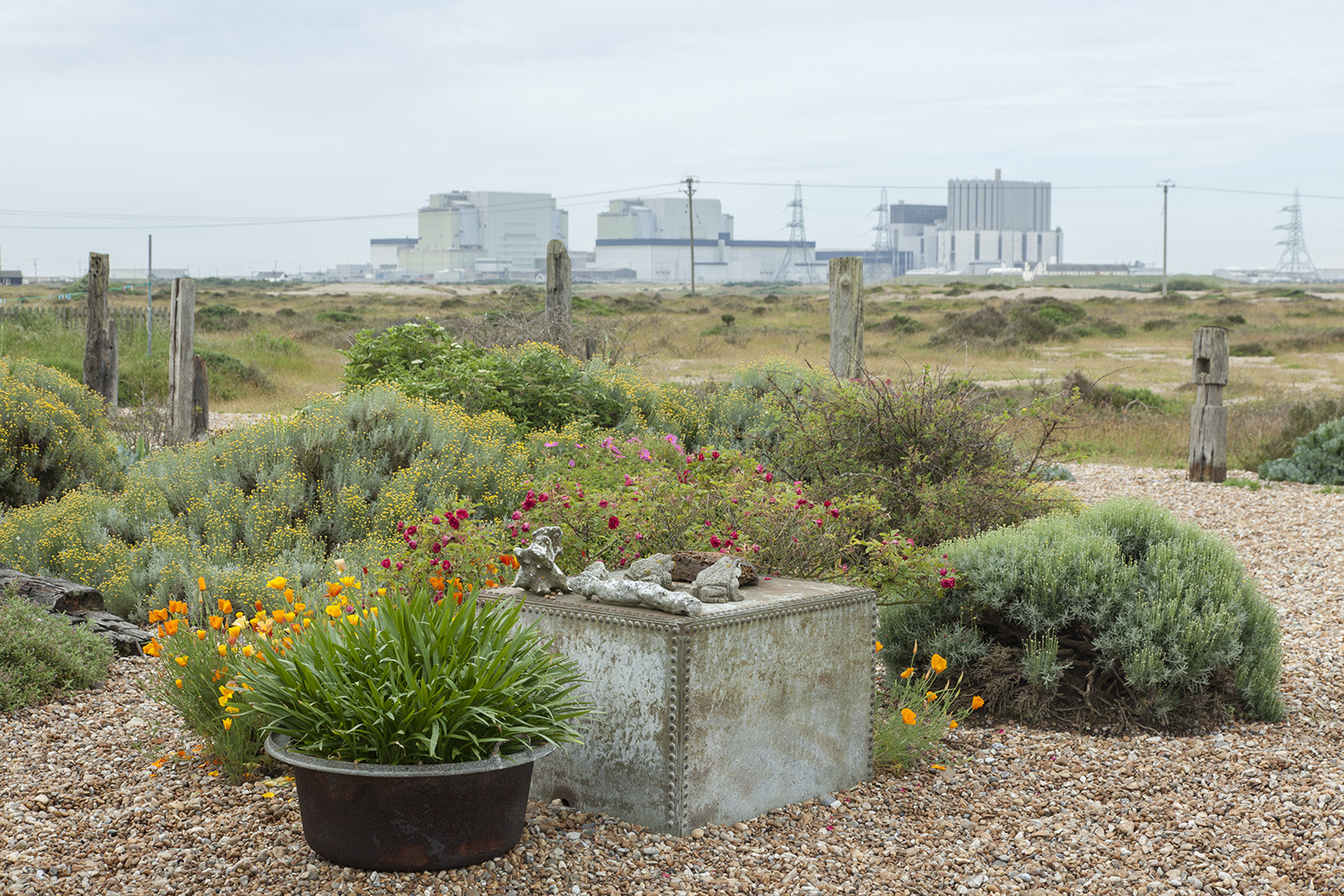 The gardener and author Christopher Lloyd wrote of the central relationship in English gardening between the garden and the surrounding landscape, recognising at Dungeness the importance of scale in this vast, open setting interrupted only by lighthouses and other man-made elements. In this respect, Jarman's garden recalls the coastal gardens created by Gertrude Jekyll, and various surviving emblem-gardens across the UK including the 17th-century walled garden at Edzell Castle in Angus, the gardens at Montacute House in Somerset where Jarman filmed The Angelic Conversation in 1985, as well as the Bloomsbury Group artists' gardens at Charleston in neighbouring Sussex.
It is moreover a garden without walls or fences of any kind, continuous with the surrounding landscape. Jarman's larger sculptural constructions, crowned with emblematic tributes and treasures, serve to anchor the garden to its roots below while standing in alignment with the rows of telegraph poles and other upright elements that stretch far out across the landscape as far as the eye can see. This effect is especially magical at dawn and dusk, and in poor light when the garden seems to stretch out to magically fill the entire landscape. This is also most unusually a garden of the night.
Dungeness is recognised as a shrine of the environmental movement, of wild landscape gardening and experimental art in all its forms. In their very fragility and vulnerability, Prospect Cottage and its garden remain vital living monuments to a strand of visionary English art running back through figures such as Keith Vaughan and Graham Sutherland to Samuel Palmer and William Blake, and back through to their medieval predecessors.
Now it needs our protection.
Find out more about the campaign to #SaveProspectCottage: to protect Derek Jarman's legacy, and secure the future of the cottage and garden as a centre of creative activity – for everyone.