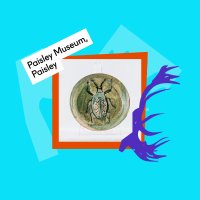 Join The Wild Escape
Find fun, family friendly events at museums across the UK, explore the animals in their collections, and join with thousands of children to create a huge collective artwork full of amazing creatures.
Meanwhile, for teachers and schools we've created a space full of handy resources and information here.
Watch their imaginations burst to life. Find family events on this week.
Events for the Easter holidays
Visit these events over Easter break. Spark their love of nature.
The Wild Escape map
Find Wild Escape events and activities near you
Need some inspiration to get started?
Join graphic artist Mollie Ray as she explores Keswick Museum to fill her sketch book with foxes, badgers and more. Why not watch before you go and you can find, observe and draw just like her.
Can't find an event?
Use our audio introduction to inspire a visit to any
museum, gallery or historic house
local to you. Then, just send us your child's animal artwork when it's finished and we'll add it to the epic collective artwork that launches on Earth Day 2023.
Explore museums together
Add Plus Kids to your National Art Pass for just £15 and unlock fantastic benefits for the whole family at museums across the UK.