Long Reads
The many faces of Vincent van Gogh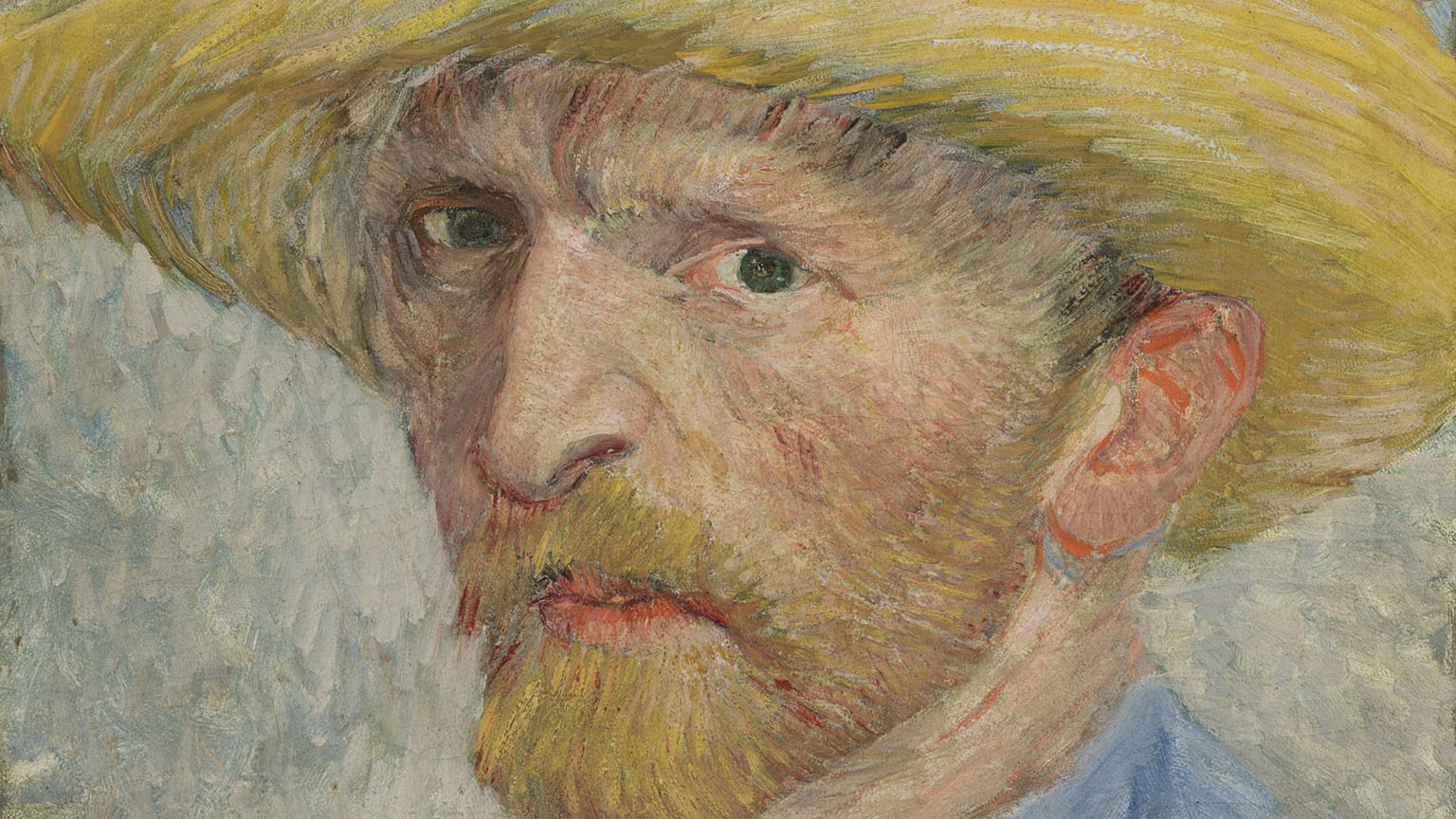 Photo: The Detroit Institute of Arts/Bridgeman Images
An exhibition at the Courtauld Gallery in London will be the first ever devoted to the self-portraits of Vincent van Gogh. Martin Bailey explores their history and significance.
Only a single photograph of Vincent van Gogh survives, taken when he was aged 19 in 1873. So when we imagine his appearance, it's his self-portraits that come to mind. We conjure up the ginger hair, the piercing eyes, the sober and sometimes intimidating face. Our perception of Van Gogh's features comes from the images that he created of himself in paint.
This underlines the importance of the coming exhibition at London's Courtauld Gallery in February, when just over half of Van Gogh's self-portraits are to be brought together, more than 130 years after the artist's death.
For the Courtauld's curator of paintings, Karen Serres, securing the loans has inevitably proved a challenge, which has been successfully overcome. Of the 35 surviving painted self-portraits, 18 are at the Van Gogh Museum, since they remained with the family of Van Gogh's brother Theo. Although the Amsterdam museum is expected to be a very generous lender to the Courtauld, it would be excessive to ask for more than a handful. Most of the other self-portraits are spread thinly among museums (all have only single examples, except for the Musée d'Orsay in Paris, with two) – so they are reluctant to lend these important works, which their visitors expect to see. Three self-portraits are hidden away in private collections, almost inaccessible.
Not surprisingly, exhibition venues have therefore been wary about trying to mount such a show. But the Courtauld, home of the famous Self-Portrait with Bandaged Ear (1889), has risen to the occasion. Iconographically, it holds the most interesting of the self-portraits – the one with the artist's easel and a favourite Japanese print. And, of course, the bandage makes us search for clues as to why he had so brutally mutilated his ear. This was at a time when Van Gogh feared abandonment – both by colleague Paul Gauguin and his brother Theo.
Vincent van Gogh, aged 19.
Photo: Van Gogh Museum, Amsterdam (Vincent van Gogh Foundation)
The artist's interest in painted self-portraits was unusual before the 20th century, and few earlier artists produced as many. Perhaps his fellow countryman Rembrandt was the only real rival, with the Golden Age master producing just over 40 – but this was throughout a career that was four times longer. While Rembrandt appears supremely self-confident in many of his self-portraits and sometimes seems to use them to promote and market his wares, Van Gogh is much more humble and honest.
The wide range of paintings side by side in the Courtauld show will emphasise how differently Van Gogh portrayed himself in the 35 portraits, despite most being done during a brief two-year period in Paris between 1886 and 1888. If you saw one of the lesser-known Parisian paintings without a label or context, you might be hard-pressed to recognise the face. Van Gogh was less concerned about depicting his physiognomy and far more interested in capturing a mood or stylistic effect. As he once wrote in a letter to his sister Wil, 'to my mind the same person supplies material for very diverse portraits'.
Although Van Gogh had painted dozens of portraits of other people in his earlier career in the Netherlands and Belgium, it was only after his arrival in France in February 1886 that he began to depict his own features. Of his 35 self-portraits, 27 were done in the French capital. Significantly, only about a dozen of his portraits of other sitters survive from his Paris period (a few more may have been given to those who sat for him and are now lost) – less than half the number of self-portraits. This emphasises that self-portraiture represented a key aspect of his artistic output at a critical moment in his career.
Van Gogh is often said to have painted self-portraits because he found it difficult to get people to pose. The year after his stay in Paris, he told Theo that he was depicting himself 'for want of another model'. But although Van Gogh may have found it difficult to pay professional sitters in Paris, he surely could have found people living on the poverty line who would have willingly posed for him for the price of a few drinks. He also had plenty of friends, most of whom were fellow artists, and they would have sat for him. So, there must be stronger explanations for the wealth of self-portraits.
Paris was the place where Van Gogh began his transformation into the powerful artist we know and love. In his earlier years in the Netherlands his palette was dark and brooding; but inspired by the French Impressionists, he began to explore and exploit colour. The evolution is clearly visible in the marked difference between his first and last Parisian self-portraits. The first of these (in which he smokes his trusty pipe) was painted in spring 1886 in brownish tones, with the only brightness emanating from the light that hits his face. The last Parisian one, from early 1888, Self-Portrait as a Painter, includes a depiction of his palette with blobs of the dynamic colours he used (both pictures are at the Van Gogh Museum). In the first of these two works he is a respectably dressed Parisian with a jacket and cravat; in the second he wears his painter's smock, emphasising his chosen profession.
It was in Paris that Van Gogh discovered what was then cutting-edge art, and his style changed almost like the seasons. For a few months he toyed with Neo-Impressionism, employing colourful pointillist dots. This can be seen in his spring 1887 self-portrait, which is now at the Art Institute of Chicago. Tackling the same subject – his face – was an excellent way of experimenting with different techniques. These were private works, which would remain in the family, so he was not so concerned if they did not all end up successes.
Great self-portraits go beyond appearance to probe the artist's personality. As Van Gogh wrote about Self-Portrait as a Painter, he was seeking 'a deeper likeness than that of the photographer'. Van Gogh never smiles, always appearing serious and intense. In only a few of the works he depicts himself straight on (a conventional self-portrait pose). His face is usually slightly to the side and he doesn't always look directly at the viewer. One can almost sense a feeling of alienation.
The most interesting group of self-portraits is the eight that he produced after his move from Paris to Provence in February 1888. It was in Arles that he created the extraordinary self-portrait with a turquoise background, which he dedicated in September 1888 to Gauguin (Harvard Art Museums). In this work, Van Gogh said that he had set out to portray himself with the characteristics of a Buddhist monk, with an almost shaven head – a reflection of their shared admiration for Japanese culture.
The two self-portraits painted in January 1889, a month after he mutilated his ear, are the most intriguing (and perhaps disturbing) of his entire career – the Courtauld picture and one which remains with the descendants of the Greek shipowner Stavros Niarchos. In artistic terms these paintings symbolise his major artistic interests in his later years.
The Courtauld painting includes an 1870s Japanese print in the background, a modified version of Geishas in a Landscape. In Paris, Van Gogh had amassed more than 600 Japanese prints and this one was among his favourites, which he brought to Arles to decorate the Yellow House, where he lived and worked. Although his copy of the print survived and was later bought by the Courtauld, sadly it was stolen in 1981 (another copy was later donated by a Van Gogh admirer in Tokyo, Shigeru Oikawa).
In the Niarchos self-portrait, dating from the same week in late January 1889, Van Gogh gives free rein to his love of complementary colours. Wearing a green coat, to keep warm in the depths of winter, the artist depicts himself against a background with a red lower half and a bright orange upper half, divided on exactly the same level as his eyes. Once again he enjoys his pipe, the smoke wafting upwards.
Vincent van Gogh, Self-Portrait as a Painter, 1888.
Photo: Van Gogh Museum, Amsterdam (Vincent van Gogh Foundation)
It is extraordinary that Van Gogh chose to paint these two pictures – both of which prominently depict his bandaged ear – just a month after mutilating himself. He could have painted the other side of his face, so this choice was very deliberate. The works must have represented a message to Félix Rey – the doctor who had treated him after the incident – and his brother Theo that he was determined to resume his career as a painter. Art would be his salvation, and enable him to move on from this traumatic event. But though this may sound contradictory, the two pictures could also have represented a cry for help and sympathy.
Nine months later, after he had had to move from Arles to the confinement of an asylum just outside Saint-Rémy-de-Provence, Van Gogh painted his last four self-portraits. This time he chose to depict his undamaged right ear (although his use of a mirror means that they appear to show the left side of his face). By now his mental condition was increasingly unstable. But art gave him a reason to live. Although he no longer wished to dwell on his disfigurement, it did not discourage him from depicting his head.
In late August 1889, after recovering from a crisis that had lasted just over a month, Van Gogh picked up his brushes, looked in a mirror and set to work: 'I began the first day I got up, I was thin, pale as a devil.' A few weeks earlier he had tried to poison himself by swallowing paint, yet he was now using those same tubes to produce self-portraits that plumbed the recesses of his psyche.
The first of the Saint-Rémy self-portraits is a weak work depicting a haggard artist (held at the National Museum, Oslo). This haunting and uncharacteristic painting was long dismissed as a fake, but it was authenticated by Van Gogh Museum specialists in 2020. Another, much healthier looking self-portrait, is hidden away from view in a private collection.
The two other Saint-Rémy self-portraits are true masterpieces. The Musée d'Orsay's Self-Portrait with Swirling Lines is part of the collection given by Paul Gachet, Van Gogh's doctor in Auvers-sur-Oise, and under the terms of the donation it is not normally available for exhibition loans. The second, which has been secured for the Courtauld show, is Self-Portrait with Palette, from the National Gallery of Art in Washington, DC. After all the suffering he has endured, Van Gogh's face appears gaunt and sallow. The background, like the smock, is deep blue, emphasising the complementary orangey hair, beard and moustache that frame his face.
Ten months later, in July 1890, this outpouring of genius would all be over, when Van Gogh brought his life to an abrupt end, when he shot himself in the wheatfields. When Van Gogh was painting the last self-portraits at the asylum, he wrote to Theo: 'People say… that it's difficult to know oneself – but it's not easy to paint oneself either.' What he left behind were his paintings – and his astonishing visual record of himself.
Vincent van Gogh, Self-Portrait with Bandaged Ear, 1889.
Photo: The Courtauld, London (Samuel Courtauld Trust) © The Courtauld
Vincent van Gogh, Self-Portrait with Palette, 1889.
Photo: National Gallery of Art, Washington DC
The more you see, the more we do.
The National Art Pass lets you enjoy free entry to hundreds of museums, galleries and historic places across the UK, while raising money to support them.