Long Reads
Authenticity and auteurship in the art of Mohamed Bourouissa
Mohamed Bourouissa, Courtesy the artist and Kamel Mennour, Paris
In 2020, Mohamed Bourouissa won the Deutsche Börse Foundation Photography Prize – a decade after Art Fund helped two UK museums acquire prints of his work. Oliver Basciano profiles the French-Algerian artist foregrounding misrepresented communities.
The reality of liberté, égalité, fraternité
The tensions that ran through French society last year, when President Emmanuel Macron sought to impose draconian laws that he said were needed to curb the spread of radical Islam, seem to be foretold in a 2006 photograph by Mohamed Bourouissa. 'La République', from the French-Algerian artist's Périphérique series, is a carefully posed mise en scène that evokes Eugène Delacroix's 1830 painting Liberty Leading the People. The oil-on-canvas work commemorated the French Revolution and shows Liberty hoisting the tricolour over the bodies of slain comrades.
In Bourouissa's hands, the scene is populated by young Black men, neighbours in the immigrant area of Paris where the artist lived as a teenager. It is night, the photograph lit from the headlight of a parked car. One man stands on the roof of a low building, the French flag in hand. It's unclear exactly what the mood is: it might be a party on an area of scrubby grass in a high-rise estate, or it might be something more ominous. A few men duck, as if caught in the midst of a disturbance. The reality is, the whole thing is staged. The work, with its evocative title, nonetheless asks whether the French Republic, with its claim of liberté, égalité, fraternité for all its citizens, also belongs to this group of men.
Mohamed Bourouissa, 'La République', 2006, from the series Périphérique
© Mohamed Bourouissa, Kamel Mennour, Paris/London and Blum & Poe, Los Angeles
Mixing cultures and media
Bourouissa studied painting at the Sorbonne before taking up the camera. At art school he would travel the Paris metro from the outskirts, with its rich urban culture of rap music and street fashion, to the rarefied environs of the Louvre and France's other bastions of high art. 'I was trying to combine these two worlds I live between – the museum and suburb culture – without making one seem better than the other,' he tells me.
While 'La République' was hanging at the 'Deutsche Börse Foundation Photography Prize' exhibition at London's Photographers' Gallery in 2020, unrest spread through the Parisian banlieues, whose residents were disproportionately affected by Covid-19 lockdown restrictions, the Muslim communities affronted by Macron's rhetoric. Photographs of burning cars, police spraying tear gas and young people in revolt filled the newspapers, mostly caught by professional photojournalists, few of whom actually lived in the area they were documenting. It was a familiar situation for Bourouissa: 'I grew up with my community being represented at best paternalistically or, more likely, shown only while in crisis, during disturbances or in stories about crime.'
I grew up with my community being represented at best paternalistically or, more likely, while in crisis, during disturbances or in stories about crime
Bourouissa won the photography prize – among the most important for the medium internationally – but his interest in how inequalities pass through generations, and in questions of immigration, integration and systemic injustice, play out across a range of media. This was evident in a survey of the artist's work at Goldsmiths CCA in London (Bourouissa says that shows such as this are important because it is only when seeing past projects together that he is able 'to understand what I made'). 'La République' was on show again, along with other works in the Périphérique series ('Carré Rouge', 2005, for example, is equally full of brooding tension, featuring groups of youths sharing furtive, suspicious glances across some sort of waiting room), along with a pair of more recent projects, neither one made with a camera. They both signal Bourouissa's increasing utilisation of sound.
Brutal Family Roots was developed last year for the Biennale of Sydney and features a small plantation of mimosa trees, which the artist remembers from his early years in Blida, a city to the west of Algiers, and return trips there (his family moved to Paris when he was five). During his research Bourouissa learned the tree was native to the lands of the indigenous Wiradjuri people of Australia, who called it the garal. Over the forest, a hip-hop soundtrack plays, with Bourouissa creating an implicit link between the journey the tree made, along colonial trade routes, to end up in Algeria, and the inverse one rap music has undertaken, invented by African American communities from the Blues, but mutating and being reappropriated globally – a link between the Wiradjuri and the artist's own community.
For Manifesta, the itinerant biennial, which last year took place in Marseille, Bourouissa created a composition that takes the calls 'hara' and 'aouin' as its base, the alerts cried out by lookouts employed in the city's drugs trade to warn dealers that police are approaching. The words have been mixed beyond recognition, but the powerful urgency of the cry is retained. Titled HARA!!!!!!hAAARAAAAA!!!!!hHARAAA!!!, it is typical of the political and ethical ambiguity that exists in the artist's work. He passes no judgement on drug dealing, a testament to the fact that, among the communities he grew up in, it is just a fact of life given the economic realities of the suburbs.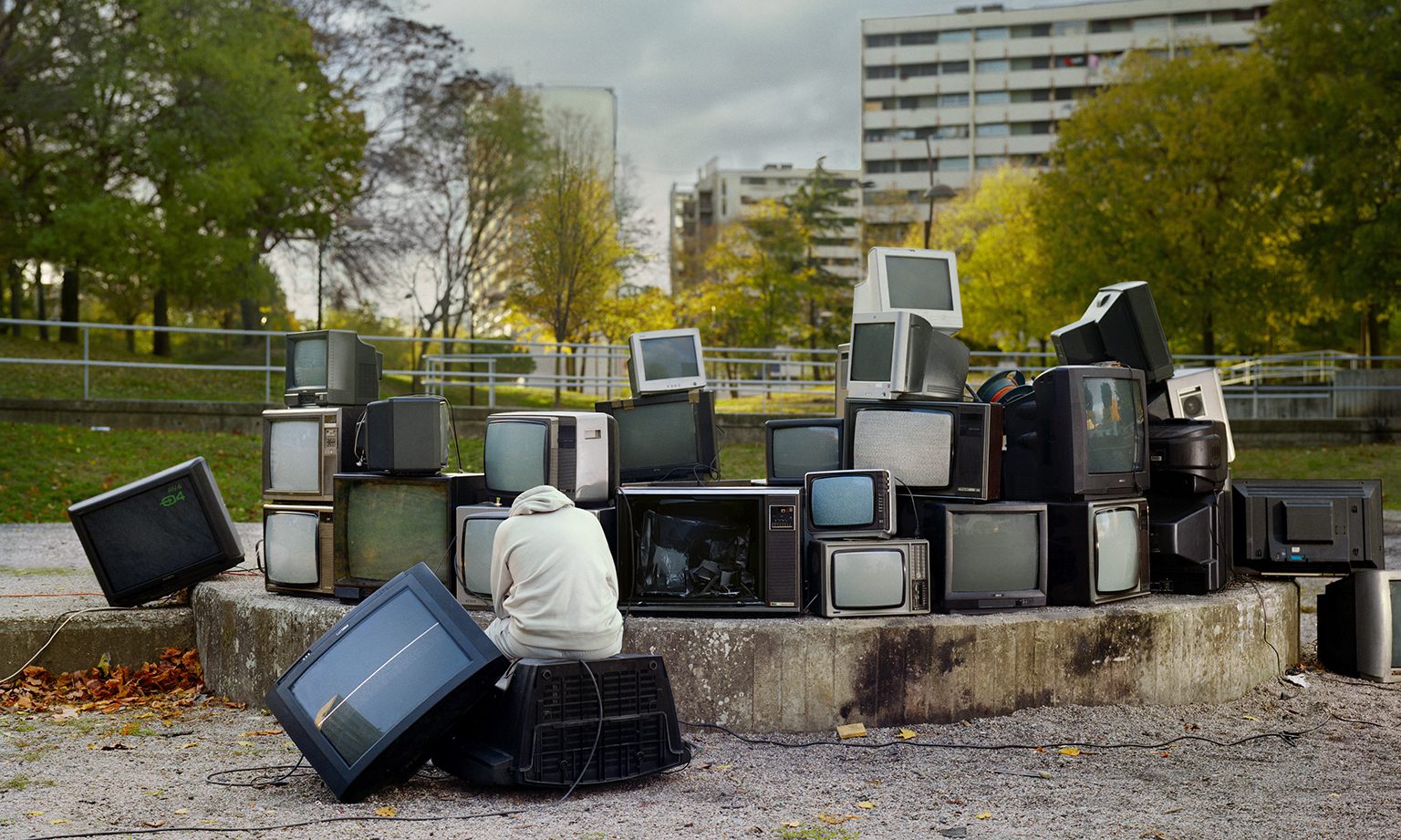 Mohamed Bourouissa, 'Le reflet', 2007, from the series Périphérique
© ADAGP Mohamed Bourouissa, courtesy the artist and Kamel Mennour, Paris/London
Images from inside
Bourouissa has repeatedly returned to crime as a subject, never revelling in or glamorising illegal activity, but also refusing to criticise or moralise. In 2009 he asked a friend who was serving a prison sentence to help make a video work from the inside. Temps mort documents both Bourouissa's directions of the shots he was after, done via SMS, and the resulting grainy footage, all filmed illicitly on a contraband mobile phone. 'In my work I try to create a crisis in the nature of auteurship,' he says. 'With Périphérique my own position was unclear or unstable. Temps mort is one of my most important works for me, however, because within it I'm attempting to clarify my own position as a photographer, as a filmmaker, confronting my relationship with the subject.'
We see the exercise yard and the dimly lit corridors, prison rations and the cellmates asleep. In exchange for his friend's help with the project, Bourouissa sent short videos of life outside the walls of the prison. Bourouissa is implicated from the beginning: he's asking his friend to break prison rules and risk the resulting punishment that would ensue if he got caught. In effect, Bourouissa is also breaking the law, for his part in smuggling in the phone, telling the contact he'd get him credit. In refusing the role of cold observer, there is a tacit admission that such neutrality is a myth, anyway; the documentarian invariably views their subject through whatever prejudice and experience they might carry – more often that of racial and economic privilege.
Assuming an outsider perspective
In the 2014-15 Horse Day project, which features photographs, video and sculpture, this manipulation of situation comes to a head. The ostensible subject is an African American horse-riding club in Philadelphia. For many photographers, this would be an intriguing enough topic: Black men on horses undermining the colonialist and white-supremacist imagery of old cowboy films and tales of the Wild West, but Bourouissa needed more. 'If I'd arrived and said, "I just want to take some nice pictures," it would have been easier, but I wanted to involve the community inside the work.'
"I'd never worked like that before, going into a new place where I didn't know the people or the context, with an idea that I wasn't sure would work" Mohamed Bourouissa
Bourouissa spent eight months in Strawberry Mansion, an impoverished neighbourhood in the north of the city. 'At the beginning it was complicated; they were very suspicious of me.' But as trust grew, he was able to help merge two local groups, the riders and a community of artists, neither of whom had had much to do with each other previously. A 'collage', the artist terms it. Bourouissa succeeded in his aim of staging (and filming) a parade enacted by the riders, with the horses kitted out in a variety of grand, flamboyant, celebratory outfits made by the local creatives.
Mohamed Bourouissa, Horse Day, 2014-15 (film still)
© ADAGP, Paris 2018, courtesy the artist and Kamel Mennour, Paris/London
'I'd never worked like that before, going into a new place where I didn't know the people or the context, going in with an idea that I wasn't sure would work. Some didn't get it, but many did, and the riders realised what my aims were.' In the resulting film, one of the horses is seen resplendent in a flowing coat of pink and silver foil streamers; another wears a reflective armour of old CDs as it canters round the paddock to the appreciation of the crowds that had turned out to see this strange spectacle.
The artist's early work was always done from a position of the insider, but as his success has grown and international exhibition and residency invitations become more frequent, he is being forced to reckon with questions of privilege. Shoplifters, made six years ago, was a harbinger of some of those concerns. While staying in Brooklyn, in 2014, Bourouissa would pass a convenience store. In the window the owner had created a display of mugshots: Polaroid photographs of alleged shoplifters the shopkeeper had apparently apprehended, exhibited for public shaming. Wrapped up in this 'readymade' were many of the themes Bourouissa has been investigating, so after much deliberation he asked if he might rephotograph the pictures.
They are haunting images, especially viewed today with the recollection that George Floyd – the African American man whose death at the hands of Minneapolis police catalysed the Black Lives Matter reckoning last year – died having been accused of passing on a counterfeit note at a similar mini-mart. Most of the subjects here are Black men too, each told to hold up the item they are accused of trying to steal. In exhibiting them, Bourouissa is bringing far more potential embarrassment to the subjects than the original Polaroids would ever have courted. He has previously described it as 'the most difficult work I have made'. A few hold alcohol, yet most awkwardly pose with everyday essential items – bread, detergent, canned vegetables. It is an important detail, reflecting that the work's subject is not apparent 'criminals', but of the criminality of a society that forces people, and disproportionately people of colour, into poverty and petty crime. It is this empathy, which, for all the knotty problematics of a work such as Shoplifters, is the defining factor of Bourouissa's practice.
Mohamed Bourouissa, 'Unknown #15', 2014, from the series Shoplifters
© Mohamed Bourouissa, Kamel Mennour, Paris/London and Blum & Poe, Los Angeles
A version of this article first appeared in the spring 2021 issue of Art Quarterly, the magazine of Art Fund.
Prints from Périphérique were acquired in 2010 by Birmingham Museums Trust and The New Art Gallery Walsall, with Art Fund support.
The more you see, the more we do.
The National Art Pass lets you enjoy free entry to hundreds of museums, galleries and historic places across the UK, while raising money to support them.