The Wild Escape - Earth Day Celebration
Come and see the installation created during our Wild Escape holiday workshops, learn how to encourage butterflies, bees and moths, and celebrate Earth Day with your family.
We'll be unveiling the community artwork created during the holidays - come and see what you and your friends helped make.
Stroud Valleys Project and friends will join us for treasure hunts, craft activities, food and drink, and to share tips on how to care for wildlife in our parks and gardens. Everyone is welcome!
---
Be part of The Wild Escape, a nationwide celebration of UK nature inspired by the wildlife found in museum and galleries. The Wild Escape is made possible with support from Arts Council England's National Lottery Project Grants, with additional support from Bloomberg Philanthropies, Kusuma Trust, Foyle Foundation and a group of generous individuals and trusts.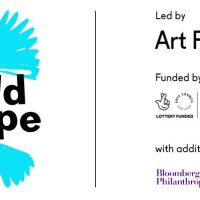 This listing is supplied by one of our museum partners and is not moderated by Art Fund.
Explore museums together
Add Plus Kids to your National Art Pass for just £15 and unlock fantastic benefits for the whole family at museums across the UK.