Wild Way Home- Wildlife survey
Join us in Biss Meadow for a morning of plant and tree surveying as part of our Wild Way Home project.
We will be meeting outside the Civic Centre and walking down through Biss Meadow Country Park surveying the trees before stopping to do a spot of random quadrat plant surveys to see what is growing in our local meadow.
This activity is inspired by the local Whittaker family who surveyed the fields around their home and kept a record of the plants they found. We hope this simple and fun activity will inspire children to learn more about the wild spaces around them.
All equipment will be provided including high-vis vests for the children. At least one adult must stay with the children during this activity.
---
Be part of The Wild Escape, a nationwide celebration of UK nature inspired by the wildlife found in museum and galleries. The Wild Escape is made possible with support from Arts Council England's National Lottery Project Grants, with additional support from Bloomberg Philanthropies, Kusuma Trust, Foyle Foundation and a group of generous individuals and trusts.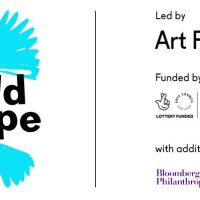 This listing is supplied by one of our museum partners and is not moderated by Art Fund.
Explore museums together
Add Plus Kids to your National Art Pass for just £15 and unlock fantastic benefits for the whole family at museums across the UK.