The Wild Escape – Nature Illustrations
As part of The Wild Escape, a major new project uniting hundreds of museums and schools in a celebration of UK wildlife, families are invited to join artist Sarah John at this drop-in illustration session.
Children will have the opportunity to learn how to do simple illustrations of birds, butterflies, bugs and more, taking inspiration from RAMM's nature collection.
Led by Art Fund and supported by Arts Council England, with hundreds of museums and schools taking part, The Wild Escape is an opportunity for the next generation to explore the big subjects of biodiversity and the environment, through the power of art and imagination.
---
Be part of The Wild Escape, a nationwide celebration of UK nature inspired by the wildlife found in museum and galleries. The Wild Escape is made possible with support from Arts Council England's National Lottery Project Grants, with additional support from Bloomberg Philanthropies, Kusuma Trust, Foyle Foundation and a group of generous individuals and trusts.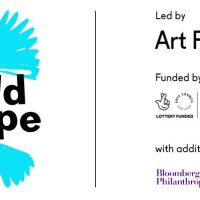 This listing is supplied by one of our museum partners and is not moderated by Art Fund.
Explore museums together
Add Plus Kids to your National Art Pass for just £15 and unlock fantastic benefits for the whole family at museums across the UK.