Wild Way Home - Shadow Puppet Show
Inspired by the shadow puppets and silhouettes from our collection, create a local fairy tale shadow puppet show.
This activity is designed for the whole family to get involved together! We will be recording your puppet shows and sharing them as part of our projects Wild Way Home and Retold if you are happy ​for us to do so.
Tickets will cover a family with up to 3 children. This family workshop is part of our Wild Way Home project - have a look at our Facebook page for other activities!
This activity is for 7 year olds and older, under 11s to be accompanied by an adult.
---
Be part of The Wild Escape, a nationwide celebration of UK nature inspired by the wildlife found in museum and galleries. The Wild Escape is made possible with support from Arts Council England's National Lottery Project Grants, with additional support from Bloomberg Philanthropies, Kusuma Trust, Foyle Foundation and a group of generous individuals and trusts.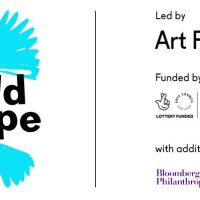 This listing is supplied by one of our museum partners and is not moderated by Art Fund.
Explore museums together
Add Plus Kids to your National Art Pass for just £15 and unlock fantastic benefits for the whole family at museums across the UK.