Totally Wild Creatures! (5-8yrs)
A relaxed and sociable workshop that encourages children to use their imagination and explore their own creativity.
Try something new this Easter break with some fun and experimental workshops, led by a professional artist facilitator at Fabrica's beautiful gallery space. Delivered as part of The Wild Escape, we are exploring and celebrating UK wildlife and creativity this Easter, in the lead up to Earth Day 2023!
Create your own make-believe creature using a variety of materials you might find in your local park, woods or on the beach! The session will begin with us looking at a diverse array of natural objects and materials including chalk, charcoal, pastels, twigs and leaves – you can also bring your own unique object from nature if you'd like to incorporate something special!
We will use our imaginations and test out different materials to make our characters funny, scary or cute in this sociable and fun session. This workshop is for children age 5-8yrs at Fabrica, a contemporary art gallery based in a former church.
£6 per child plus booking fee.
Parents/guardians are able to leave their children on site - take advantage of the surrounding shops and cafes for a well-earned break. If you prefer, you are also welcome to stay on site at Fabrica during the session where hot drinks and snacks will be available for purchase at our in-house charity cafe.
---
Be part of The Wild Escape, a nationwide celebration of UK nature inspired by the wildlife found in museum and galleries. The Wild Escape is made possible with support from Arts Council England's National Lottery Project Grants, with additional support from Bloomberg Philanthropies, Kusuma Trust, Foyle Foundation and a group of generous individuals and trusts.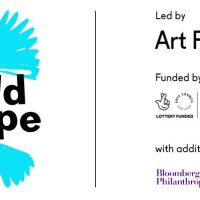 This listing is supplied by one of our museum partners and is not moderated by Art Fund.
Explore museums together
Add Plus Kids to your National Art Pass for just £15 and unlock fantastic benefits for the whole family at museums across the UK.