Curated Tree Walk Around Bury
This family friendly Curated Tree Walk takes you on a journey around Bury Town Centre.
On this walk you will explore certain trees along the way and learn how they help to capture pollutants, reduce soil erosion, reduce flooding by soaking up the rain, lower temperatures by shading and they help to mitigate climate change by capturing and storing carbon.
Many tree species you will see on the walk also provide an abundance of pollen and nectar which supports urban pollinators. The large trees you will see also reduce noise pollution and provide food and habitat for wildlife such as birds, insects, and mammals.
---
Be part of The Wild Escape, a nationwide celebration of UK nature inspired by the wildlife found in museum and galleries. The Wild Escape is made possible with support from Arts Council England's National Lottery Project Grants, with additional support from Bloomberg Philanthropies, Kusuma Trust, Foyle Foundation and a group of generous individuals and trusts.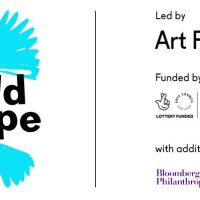 This listing is supplied by one of our museum partners and is not moderated by Art Fund.
Explore museums together
Add Plus Kids to your National Art Pass for just £15 and unlock fantastic benefits for the whole family at museums across the UK.