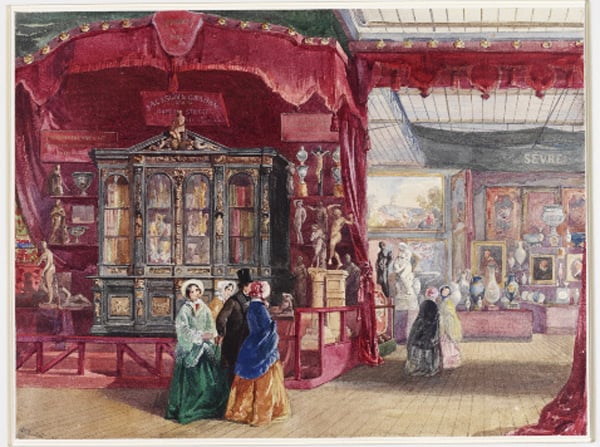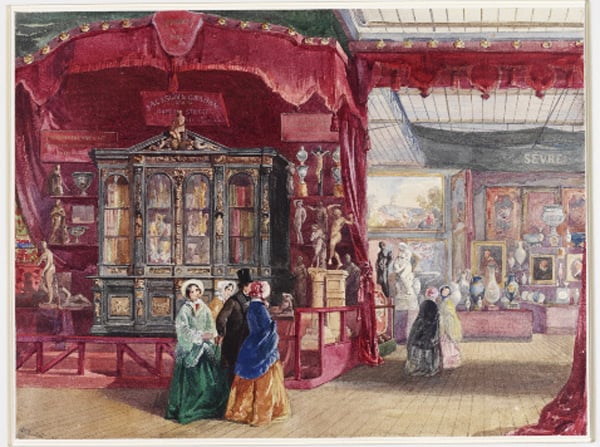 Group of watercolours of the Great Exhibition, 1851
Art Funded

2006

Dimensions

Various dimensions (maximum 30.5 x 40.8 cm)

Vendor

Fine Art Society
Eleven of the 25 original watercolours reproduced as lithographs by Day & Co, in the publication Recollections of the Great Exhibition (1851).
These watercolours comprise one of the principal visual records of the interiors and contents of the Great Exhibition of 1851, one of the key events in the history of British art and design. Titles are: 1) The Indian Court and Jewels, by Pigeon; 2) Part of the Fine Arts Court, by Michael; 3) View of the West Nave, by Pidgeon; 4) Church Furniture, by Dolby; 5) The Indian Court and Elephant Trappings, by Goodall; 6) Part of the China Court, by Absolon; 7) View of the East Nave (The Amazon, by August Karl Edward Kiss), by Absolon; 8) View of the East Nave (Godfrey de Bouillon, by Louis Eugene Simonis) by Absolon; 9) Part of the Russian Court, by Pidgeon; 10) Part of the French Court, no.1 (Sevres), by Goodall; 11) Part of the French Court, no.2, by Absolon.
Artists include
Provenance
Christie's, 1989; Fine Art Society; Christie's, 2003; bought in.