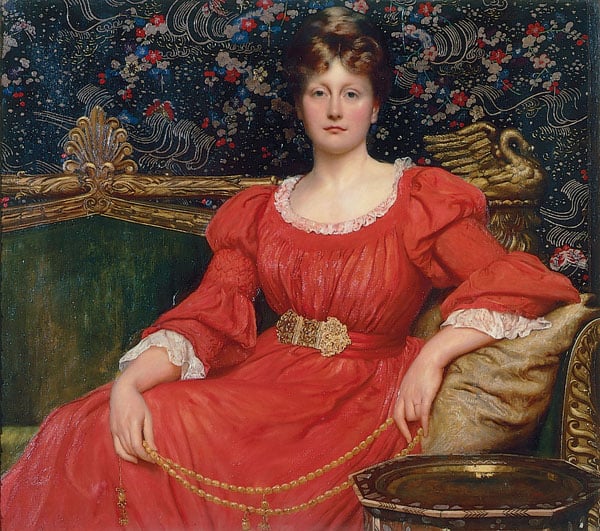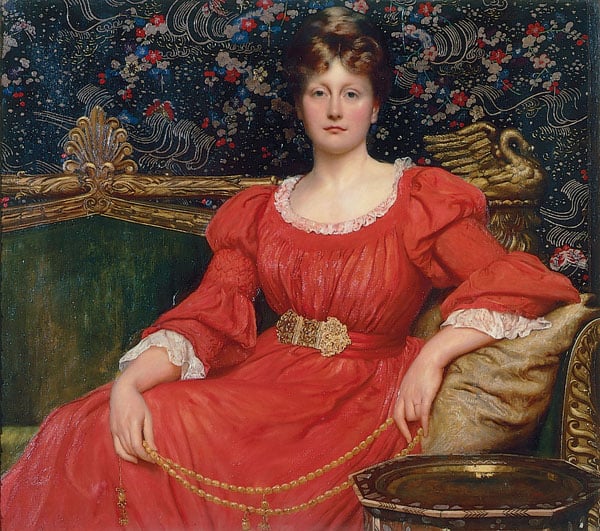 Mrs Luke Ionides
Art Funded

2003

Dimensions

102.2 x 115.2 cm

Vendor

Mr and Mrs Wyn Jones and Mrs Polly Ionides through Christie's
Opulent portrait of Elfrida Elizabeth Bird (1848-1928), wife of Luke Ionides (1837-1924), epitomising Aesthetic taste.
The sitter wears a salmon pink silk dress with a silver gilt buckle at the waist decorated with fretwork including the figures of Faith, Hope and Charity (the original buckle is currently on loan to the museum). She holds a 'Tesbih' string of amber beads which, along with the mother-of-pearl inlaid dark wood table in the right foreground, may be a reference to the Ionides' Middle Eastern origin. Elfrida sits on an Empire-style sofa (the height of Aesthetic fashion) behind which is a screen of patterned Japanese kimono silk (of which the museum has several comparable examples).
Provenance
Mr and Mrs Luke Ionides; by descent to anonymous vendor (through Christie's).