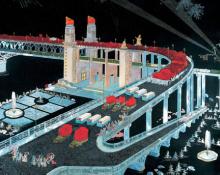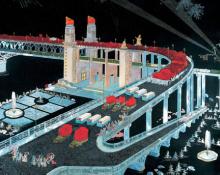 Official Opening of the Nanjing Yangzi River Bridge
Art Funded

2000

Dimensions

217 x 105 cm

Presented by

Peter and Susan Wain and Mr David Hyatt through The Art Fund
Black lacquer base, inlaid with mother-of-pearl.
Most of the mother-of-pearl has been selected from naturally coloured shell. Fine detail of the fire-work bursts. Estimated that over 6,000 man hours went into the production of this plaque.
Artists include
Provenance
Ordered by General Xu Shiyou as a potential gift for Lin Biao, Vice Chairman and Mao's heir apparent. Left in the factory museum in Yangzhous region, China. Purchased by Peter Wain from factory in 1997. Sold to David Hyatt King.