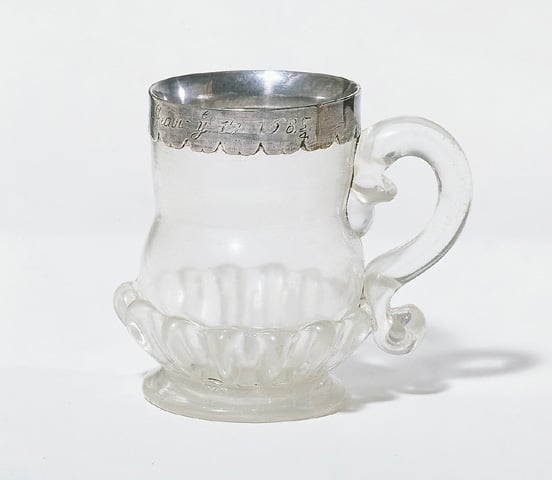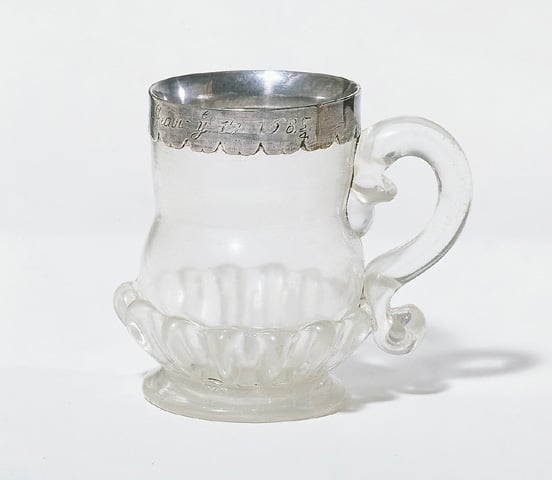 Pitchford Hall mug
Art Funded

1997

Dimensions

6 x 7 cm

Vendor

Private vendor
When the Thames froze in the winter of 1683-4 London tradesmen, deprived of their usual living by the severe weather, created a spectacle such as London had never known.
A double row of booths formed 'Temple Street' across from Temple Stairs to the South Bank. With the melting of the ice all vanished beneath the waters, leaving behind only those ephemeral souvenirs that so rarely outlive the memory of the event, let alone survive to become heirlooms for three centuries. This unique glass souvenir, the only accurately dated piece of English glass of the 1680s, is a perfect, reduced version of a contemporary glass ale mug. The form of words in the engraved inscription strongly suggests a while-you-wait engraver working at one of the two toy shops shown on woodcut illustrations of the fair, which were themselves printed in a booth on the ice. Too small for use, yet too precious for a child to have as a toy, this delightful object has survived against all odds, providing an entree into one of the most remarkable episodes of late 17th-century England.
Provenance
Knight, Frank & Rutley (1956) by descent to vendor.