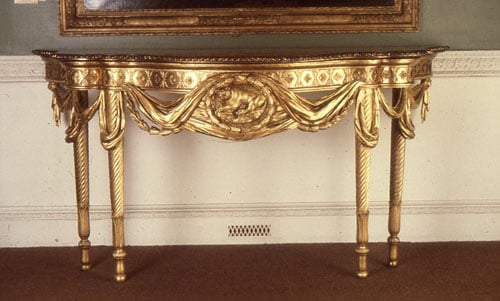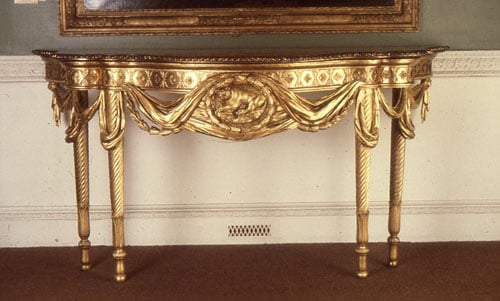 Pair of Side-Tables
Art Funded

1956

Dimensions

89 x 183 x 76 cm

Vendor

Frank Partridge
In the centre of the top of each side-table is a large, shaped oval with sprays of flowers, tied with a lovers' knot, inlaid in boxwood; the oval is surrounded by a pattern of trellised vines inlaid in satinwood, within a cross-banded walnut border edged with gilt metal gadroons.
Each stand, supported by four circular tapering legs carved in twisted spirals, is of gilt wood decorated with a stylized frieze and draped with swags of gilded lime-wood. A figure in high relief of a lion on one table and of a lioness on the other is encircled by a laurel wreath. The tables came from Olantigh Towers, Wye, Kent, the last owner being a direct descendant of John Sawbridge, who rebuilt Olantigh in 1768. A lion is the Sawbridge crest.
Provenance
Olantigh Towers, Wye, Kent, rebuilt by John Sawbridge in 1768; by descent to Mr John C W Sawbridge-Erle-Drax.