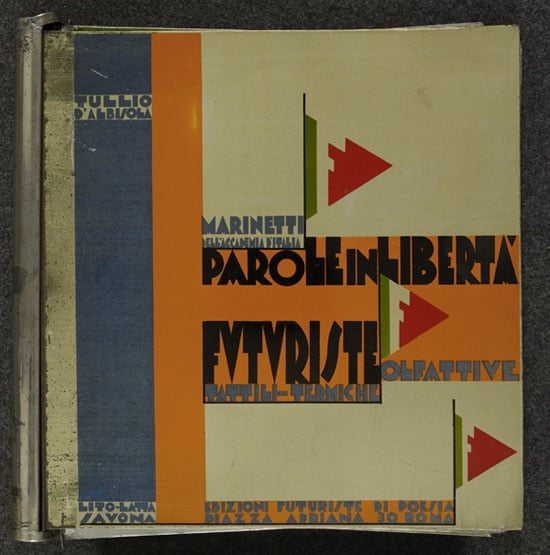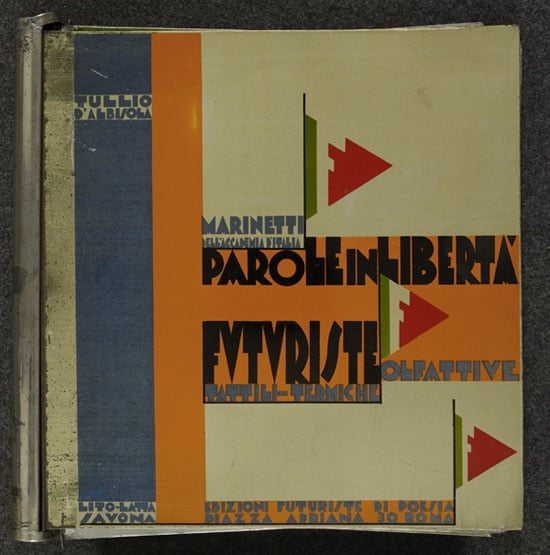 Parole in Liberta Futuriste Olfattive Tattili Termiche (Words in Futurist, Olfactory, Tactile, Thermal Freedom)
Art Funded

2008

Dimensions

23.5 x 24.7 x 1 cm

Vendor

Private vendor
The book represents three elements of futurism.
Firstly, there is the interest in the new, the modern and industrial - expressed in its tin pages, the ball-bearing/wire binding-structure and the use of lithography for text and image. Secondly, it exploits Marinetti's invention of 'parole in libertà' ('words in freedom'), where words can be poetised by visual manipulation. D'Albisola treats Marinetti's poems as objects: the recto has the Marinetti poem whilst the verso has d'Albisola visualisation. This is in contrast to the more usual layout where the poem would be opposite its illustration. And thirdly, it exploits the futurist interest in the multi-sensual experience: as the book's title states, it explores smell (for example, of the lithographic inks), touch (the unusual feeling of tin pages and its variable temperature) as well as hearing (ball bearings, tin, visual loudness through type-size etc.), and sight.
Artists include
Provenance
Jurgen Holstein; Sackner Archive of Concrete and Visual Poetry, 1985.