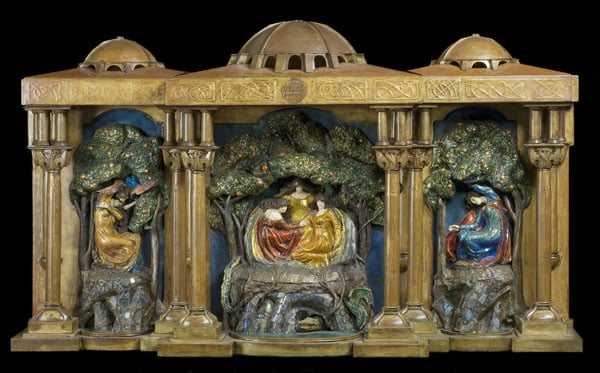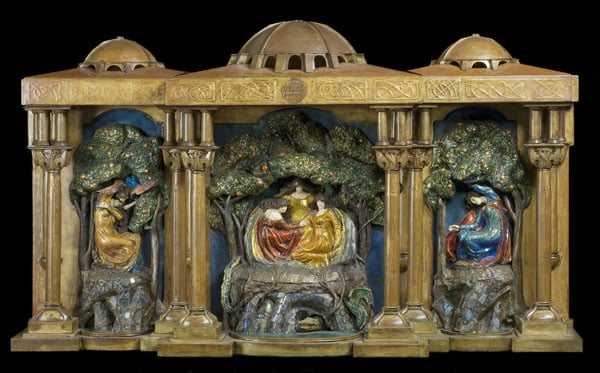 Overmantel: The Garden of the Hesperides
Art Funded

2008

Dimensions

98.5 x 168 x 35.5 cm

Vendor

Pre-Raphaelite Inc through H Blairman and Sons
Alexander Fisher was the key figure in the revival of enamelling in Britain in the late nineteenth century.
This work stands out as his most ambitious and important work due to the size, shape and brilliant colour of the enamels. Fisher appears to have been inspired by paintings of the Garden of Hesperides by Edward Burne-Jones and Lord Leighton. The overmantel was commissioned or bought by Arthur James Balfour, who became Prime Minister in 1902, and was installed in the dining room of his great mansion at Whittingehame in East Lothian. The overmantel enriches the collection of Edinburgh-made and locally-related enamels in the National Museums of Scotland as well as linking to other works from the Arts and Crafts movement. This work was acquired with assistance from the Wolfson Foundation.
Provenance
Commissioned by, or acquired by Arthur James Balfour; Dowells Ltd, 1938; J Yates; Cohen; Fine Art Society, early 1970s; Joseph Setton; Pre-Raphaelite Inc. This work was vetted by the Art Loss Register in 2008.