Long Reads
Ray Harryhausen: The man who brought myths to life
World History Archive/Alamy Stock Photo
Connor Heaney, Collections Manager at the Ray and Diana Harryhausen Foundation, reflects on the special-effects pioneer's inspirations and influence.
Who was Ray Harryhausen?
Stop-motion animation visionary Ray Harryhausen would have turned 100 years old on 29 June 2020. One of the most important filmmakers of the 20th century, Harryhausen created some of the most memorable special effects of cinema history, bringing a unique menagerie of creatures to life on the big screen in classic tales such as Jason and the Argonauts (1963) and the original Clash of the Titans (1981). His films adapted mythological stories into 90 minutes of fantasy cinema, astounding audiences with his groundbreaking techniques. Drawing upon fine-art influences, science-fiction novels and his own vast imagination, Harryhausen created cinematic milestones that continue to influence filmmakers and cinemagoers to this day. Directors such as Peter Jackson (The Lord of the Rings), James Cameron (Avatar), Steven Spielberg (ET) and many more have paid tribute to his impact on their careers; upon Harryhausen's passing in 2013, George Lucas stated, 'Without Ray Harryhausen, there would likely have been no Star Wars.'
Born in Los Angeles in 1920, Harryhausen spent the first portion of his life and career in California, before moving to London in the early 1960s. His reasons for moving to the UK were initially practical: the European locations that worked best for his style of films were easier to access, and he enjoyed working with British film crews. However, he soon met his wife, Diana Livingstone Bruce (a direct descendent of explorer David Livingstone). The two were married in 1962, and Harryhausen was to spend the rest of his life in London.
© The Ray Harryhausen Foundation
Ray Harryhausen animating the Snake Woman for 'The 7th Voyage of Sinbad', 1958
The art of stop-motion animation
Harryhausen's imaginary worlds were given life through the art of stop-motion animation. Uniquely amongst visual-effects technicians, he operated as a one-man industry and was responsible for creating the very concepts of the films that he animated, as well as building the creatures that featured in his work. No mere technician hired by studios to complete the special effects that they had mandated, Harryhausen would instead instigate the film projects that he wanted to work on. Heavily involved with the screenwriting process, he would also create magnificent key drawings to demonstrate the stop-motion centrepieces of his movies. These would be shown to studio heads, selling the fantastical concepts he had envisioned.
His tenacity and self-reliance were forged at an early age. Shortly before his 13th birthday, he was taken by his parents to see King Kong (1933) – a cinema trip that would change his life. As soon as the film's iconic giant ape appeared on the big screen, the young Harryhausen became immediately convinced of his future vocation. He peppered his parents with questions about how the creature had been brought to life during the extravaganza which had unfolded before their eyes. At the time, information on how such effects could be achieved was thin on the ground. Harryhausen knew that he hadn't seen a mere man in a gorilla suit – but just how had such a charismatic and lifelike character been created?
Harryhausen drew upon the work of several influential 19th and early 20th-century artists, honing his artistic skills to produce detailed, evocative drawings of the effects he planned to create through his animation
Through trial and error, Harryhausen realised that a process of stop-motion animation had been used. A physical model had been painstakingly manipulated, and filmed frame by frame, to create the illusion of movement. The teenager soon began to build models and animate his own short films, firstly in his backyard and then within a studio that had been customised in the garage of his admirably supportive parents. Through some persistence, Harryhausen was eventually able to meet his idol, special-effects pioneer Willis H O'Brien – the man who had animated Kong. O'Brien offered him some constructive criticism regarding the construction of his models, and suggested he enrol in anatomy classes.
Medusa from 'Clash of the Titans', 1981, restored in 2019
© The Ray Harryhausen Foundation. Photo by Sam Drake, National Galleries of Scotland
The lasting influence of Gustave Doré
During his time at night school, Harryhausen drew upon the work of several influential 19th and early 20th-century artists, including Gustave Doré, Joseph Michael Gandy, Charles R Knight and John Martin, honing his artistic skills for the purpose of creating detailed, evocative drawings that would provide a visual understanding of the effects he planned to create through his animation.
As with so many young men of his generation, Harryhausen's budding career was interrupted by the outbreak of the Second World War. Upon being drafted, he was tasked with duties within director and producer Frank Capra's film unit, working as a second technician on the army propaganda series Why We Fight, further increasing his practical knowledge of filmmaking. Always keen to make the most of any spare time, he continued to practise his craft, and collected engravings by Doré from antiques stores during shore leave. The artist's ongoing influence can be seen throughout Harryhausen's work, and as he said himself: 'Gustave Doré, it has always seemed to me, was a motion-picture art director born before his time. In the early days of film production, his influence on many directors, and certainly art directors, was immense. His imagination and his talent for dramatic composition is typified by his unique way of focusing light onto the centre of the picture, by creating a dark foreground and background and highlighting the central action. The effect is almost cinematic.'
After the war, Harryhausen was given his first role on a major motion picture – 1949's epic Mighty Joe Young, a follow up of sorts to King Kong, which saw a large yet friendly ape who is transported to LA and exhibited as part of a nightclub performance. Supervised by O'Brien, it is estimated that Harryhausen animated some 90 per cent of the film's effects, which would win an Academy Award the following year.
Harryhausen had long felt that stop-motion could be used to express more than 'creature on the rampage' stories, and instead could facilitate visions that audiences had never seen before
Following this success, Harryhausen realised that it was vital to create a method through which he could animate alone, creating spectacular animation within short timescales and even shorter budgets. Developing a rear-projection technique which he later named 'Dynamation', Harryhausen was able to immerse his stop-motion creations within pre-existing live footage in a seamless manner. His first solo picture, The Beast from 20,000 Fathoms, was released in 1953. In the film, a prehistoric creature is awoken by an atomic explosion, eventually rampaging through New York City. It was a huge success and led to a series of popular black-and-white films throughout the rest of the decade. However, it was his first Technicolor picture in 1958, The 7th Voyage of Sinbad, that would cement his legacy as a special-effects pioneer.
The 7th Voyage delved into the legends of Shahrazad's Arabian Nights to create a breathtakingly colourful spectacle. Harryhausen had long felt that stop-motion could be used to express more than 'creature on the rampage' stories, and instead could facilitate visions that audiences had never seen before. The 7th Voyage featured complex fight sequences with living skeletons, Cyclops, two-headed Rocs (giant birds) and Snake Women battling within a mythical world. The film was to inspire a generation of directors and filmmakers, its success paving the way for a series of Harryhausen classics over the following decades, including Jason and the Argonauts, First Men in the Moon (1964), One Million Years BC (1966) and Clash of the Titans.
Life after film-making
Following his retirement from filmmaking in the early 1980s, Harryhausen was able to enjoy the adulation of the generation of contemporary directors and actors who had grown up with and been inspired by his films. In 1992 he was presented with an Academy Award for Lifetime Achievement; the evening's host, actor Tom Hanks, reflected on Harryhausen's influence, even stating, 'Some people say Casablanca or Citizen Kane. I say Jason and the Argonauts is the greatest movie ever made!'
Harryhausen sadly passed away in May 2013, but his legacy lives on through the vast collection held by The Ray & Diana Harryhausen Foundation. Established by Harryhausen in 1986, the foundation protects and preserves his collection of models and artworks for future generations to enjoy and learn from. As the foundation continues to catalogue this substantial archive, incredible new discoveries and hidden treasures are being discovered every day. Foundation trustee John Walsh researched the myriad of unmade projects that Harryhausen had worked upon throughout his career; movie ideas which were lost amongst the vicissitudes of the movie industry. Walsh's book Harryhausen: The Lost Movies details concept art, scripts and models held in the foundation's archive for some 70 unfilmed projects, spanning Harryhausen's career from the early 1930s through to projects with which he experimented in the new millennium. The book stands as a testament to Harryhausen's creativity, resourcefulness and sheer imagination, as well as the extent of the archive he left behind.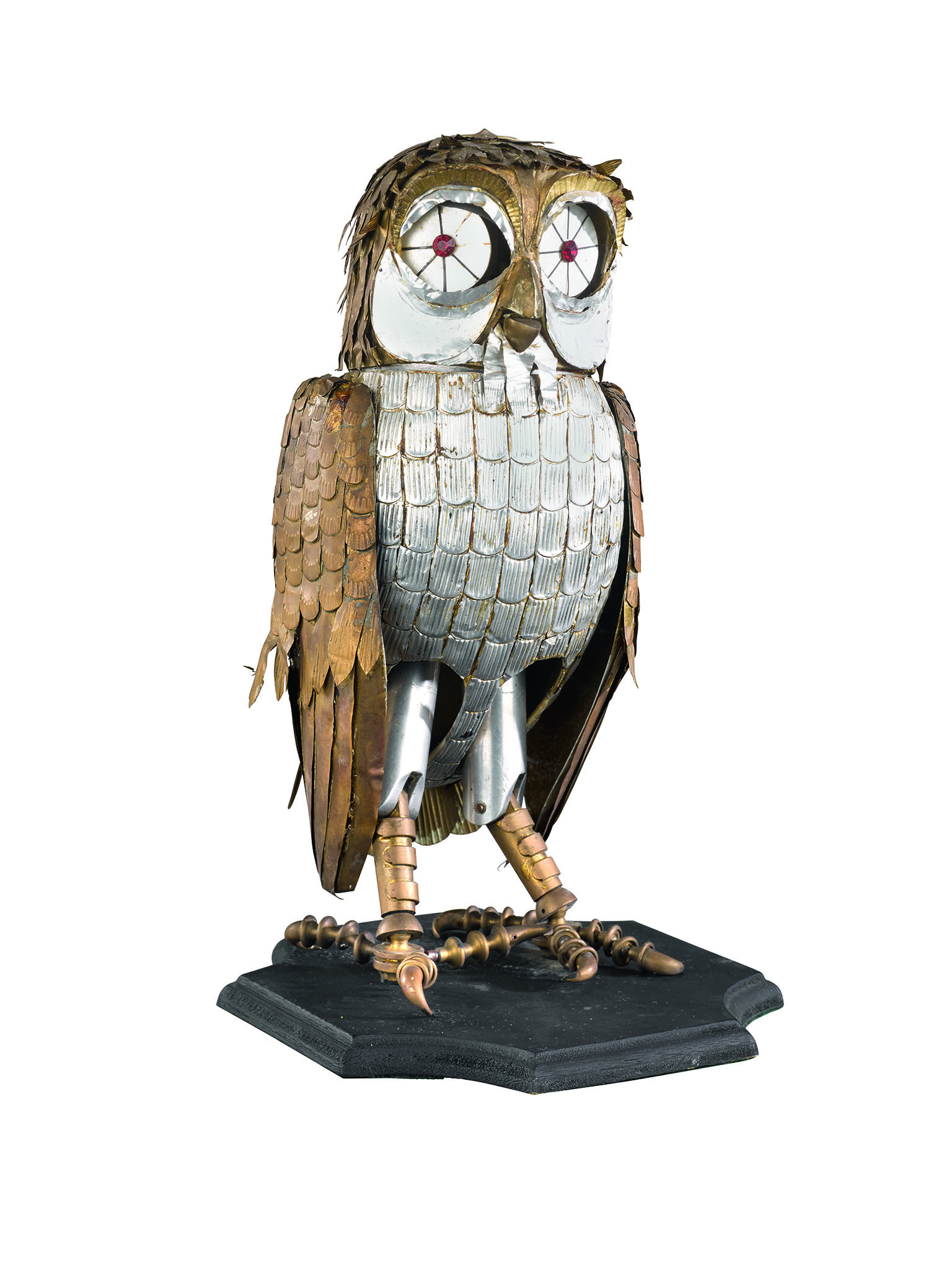 Bubo the Owl from 'Clash of the Titans', 1981
© The Ray Harryhausen Foundation. Photo by Andy Johnson
It is wonderful to reflect on the influence that his films have had on the shape of modern cinema. What's more, at an estimated 50,000 items, his collection is one of the largest of its kind in the world. Stop-motion models, artworks, books, tools and much more besides comprise a unique insight into his eight decades of creativity. Many items from the collection were seen at the National Galleries of Scotland, in 'Ray Harryhausen: Titan of Cinema' – the largest exhibition of his work to date. The exhibition told the story of his life and movies, from 1930s Hollywood through to the present-day inspiration that his films still provide. Latex rubber models that had previously been too delicate to display have been restored by the foundation. Figures such as the mythological bronze giant Talos from Jason and the Argonauts will be on show for the first time in decades, while previously unseen treasures will be unveiled. Visitors will be able to get close to original models including the skeleton army from Jason and the Argonauts, snake-headed Medusa and the Kraken sea monster from Clash of the Titans, and six-armed Kali from The Golden Voyage of Sinbad (1973).
Harryhausen is missed greatly by his fans and friends worldwide. His daughter, Vanessa, is a trustee of the foundation and deeply involved with the preservation of this remarkable collection. To mark her father's centenary, she wrote of her own experiences of living within such a magical world. Telling her story through 100 objects from the foundation's archive, each piece representing a personal memory for her. Having been on set on many of her father's films, and growing up in a house packed with her father's creations, she has a unique insight into what made his work so very special. Also entitled Harryhausen: Titan of Cinema, her book reveals more of the man behind the myth, shedding further light upon why Harryhausen should be recognised not only as a unique filmmaker, but a unique storyteller and artist.
About the author
The more you see, the more we do.
The National Art Pass lets you enjoy free entry to hundreds of museums, galleries and historic places across the UK, while raising money to support them.