Wild Escape art workshop with Julia Ogden - ages 4-11
Grab your grown up and come to a one-hour creative workshop with artist Julia Ogden where you will create your own endangered animal.
Free – booking essential
For ages 4 – 11. Each child to be accompanied by an adult to support the activity.
Made possible thanks to the support of The Environment Agency
As part of our Open Space 70 environmental arts festival we're offering kids the chance to make their own animal, using various art techniques.
Grab your grown up and come to a one-hour creative workshop with artist Julia Ogden where you will use pastels to create your own hedgehog, otter, red squirrel or adder - all animals on the list of the most endangered species in the British Isles.
Suitable for ages 4 - 11, each child must bring an adult. All materials are provided. This workshop is part of Art Fund's national Wild Escape project.
Following the workshop you will be able to photograph your animal creation and upload it to the Wild World and have fun watching it interact with animal creations made by kids all over the UK.
Explore The Wild World here: https://takepart.thewildescape.org.uk/
Tickets for this workshop are free (but limited in number due to room capacity) and will be released via our website on Thursday 25 May at 5pm. Visit https://www.ticketsource.co.uk/hebdenbridgearts to book your space.
---
Be part of The Wild Escape, a nationwide celebration of UK nature inspired by the wildlife found in museum and galleries. The Wild Escape is made possible with support from Arts Council England's National Lottery Project Grants, with additional support from Bloomberg Philanthropies, Kusuma Trust, Foyle Foundation and a group of generous individuals and trusts.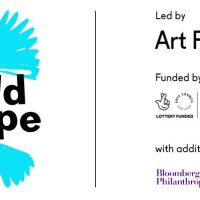 How to get there
Hebden Bridge Arts Festival
Hebden Bridge Town Hall, St. Georges Street, Hebden Bridge, West Yorkshire, HX7 7BY
This listing is supplied by one of our museum partners and is not moderated by Art Fund.
Explore museums together
Add Plus Kids to your National Art Pass for just £15 and unlock fantastic benefits for the whole family at museums across the UK.