Brilli-ANT: How someone small changed a big story
An immersive exhibition that shows how the natural world can inspire us to take positive action around climate change.
Brilli-ANT gives children and their families the opportunity to put on a pair of ant antennae, before they travel through anthill tunnels, searching for clues and stories. On their way, they'll meet a host of giant insects voiced by some of the UK's best known actors and activisits including Derek Jacobi, Samantha Bond, Julian Clary, Noga Levy Rapoport, Isy Suttie, Ellis James and Nick Cope. From dung beetles explaining recycling, to bumblebees showing the importance of helping others - each insect has a story to tell about how their species has adapted to climate change. Brilli-ANT is designed to give children practical ways to tackle climate change in an engaging and thought-provoking way, without making them feel like the weight of the world is on their shoulders.
As you travel through the exhibition you'll discover stories old and new, from books, films, games and TV. We hope this will inspire you to continue the mission to protect our planet once your visit to The Story Museum comes to an end.
---
Be part of The Wild Escape, a nationwide celebration of UK nature inspired by the wildlife found in museum and galleries. The Wild Escape is made possible with support from Arts Council England's National Lottery Project Grants, with additional support from Bloomberg Philanthropies, Kusuma Trust, Foyle Foundation and a group of generous individuals and trusts.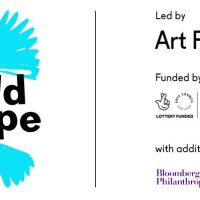 This listing is supplied by one of our museum partners and is not moderated by Art Fund.
Get a National Art Pass and explore The Story Museum
You'll see more art and your membership will help museums across the UK
National Art Pass offers available at The Story Museum
How to get there
The Story Museum, Rochester House, 42 Pembroke Street, Oxford, Oxfordshire, OX1 1BP
How to get there
Explore museums together
Add Plus Kids to your National Art Pass for just £15 and unlock fantastic benefits for the whole family at museums across the UK.