The Magpie's Challenge at Talbot Rice Gallery
An educative and fun treasure hunt in one of Scotland's leading contemporary art galleries.
Talbot Rice Gallery are going to be host to lots of beautiful tiny birds, painted on old banknotes by artist Hanna von Goeler. On Earth Day, 22 April, in support of The Wild Escape's celebration of UK wildlife, it will bring more birds into its galleries and invite families to come and find them.
Magpies love a treasure hunt. But, they are very clever and cunning – and whilst they can be bringers of good fortune they can also signs of bad luck. So, this will not be as easy as it sounds. There will be lots of different species of birds in the exhibition and in order to know if they can be found in the UK, you will have to learn how to identify them.
Fun and educational, this is about the wonderful variety of birds that live on and visit our shores and the power of contemporary art to represent their relationship to our complicated human world.
One for sorrow,
Two for joy,
Three for a girl,
Four for a boy,
Five for silver,
Six for gold,
Seven for a secret never to be told.
- Old nursery rhyme about Magpies
---
Be part of The Wild Escape, a nationwide celebration of UK nature inspired by the wildlife found in museum and galleries. The Wild Escape is made possible with support from Arts Council England's National Lottery Project Grants, with additional support from Bloomberg Philanthropies, Kusuma Trust, Foyle Foundation and a group of generous individuals and trusts.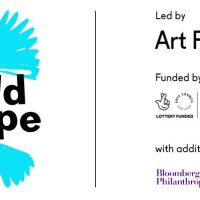 This listing is supplied by one of our museum partners and is not moderated by Art Fund.
Explore museums together
Add Plus Kids to your National Art Pass for just £15 and unlock fantastic benefits for the whole family at museums across the UK.