The Wild Escape at the Oriental Museum
Celebrating all things wild with this national event to imagine a better future for wildlife.
Explore the animals hidden in the galleries, write a wild poem and make a colourful tiger hanging decoration.
Explore, learn and create with our programme of free family events. Taking inspiration from objects on display across the Oriental Museum's galleries, families can get creative all season long. Activities are generally suitable for families with children aged 7 - 11 years. All children must be accompanied by an adult. All activities are drop in, unless otherwise stated.
---
Be part of The Wild Escape, a nationwide celebration of UK nature inspired by the wildlife found in museum and galleries. The Wild Escape is made possible with support from Arts Council England's National Lottery Project Grants, with additional support from Bloomberg Philanthropies, Kusuma Trust, Foyle Foundation and a group of generous individuals and trusts.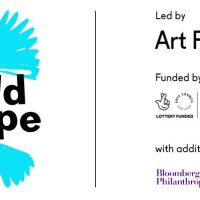 Explore museums together
Add Plus Kids to your National Art Pass for just £15 and unlock fantastic benefits for the whole family at museums across the UK.