Donate
Become an Art Partner
Art Partners are Art Fund's closest supporters. Join this special group and see the impact of your generosity across the UK.
Make an impact
As an Art Partner you'll see the difference your support makes to the UK's public collections first-hand.
Our special group of patrons champion the UK's museums and galleries in the same spirit of private philanthropy that Art Fund's founders once did – and you'll get to see this support in action through an exclusive programme of events, private views, studio visits and more.
What is an Art Partner?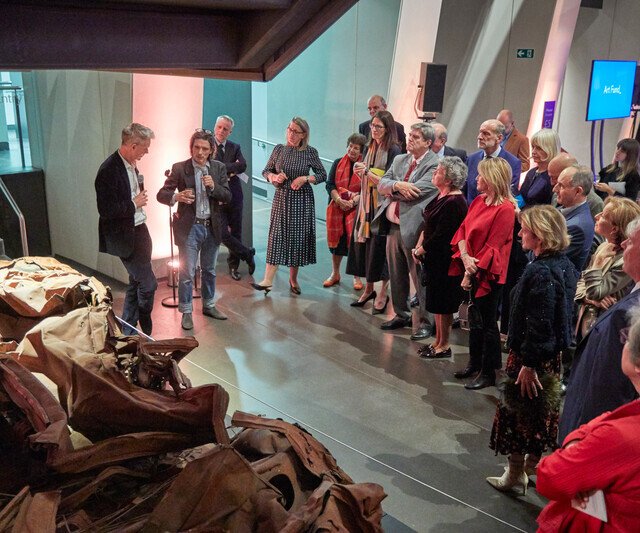 Trustees Dinner, Imperial War Museum London
Unexpected, unforgettable art experiences
Private views
We take Art Partners closer to art, with visits to private collections and exclusive views of major exhibitions.
Studio visits
As an Art Partner you'll meet artists in their studios. Recently we've met Antony Gormley, Magdalene Odundo and Julian Opie.
UK-wide visits
We programme trips across the UK with tailored itineraries taking in key galleries and cultural highlights.
Pitzhanger Manor & Gallery
Art Partners provide crucial funding for all areas of our work.
Building collections
Helping museums to acquire and care for objects and works of art.
Saving works of art
Keeping important works of art on public display in the UK.
Fuelling talent, developing expertise
Supporting the development of curators and museum professionals.
Case Study
I am an Art Partner because I want the impact of my support to be felt across the country, from Kirkcudbright to Plymouth and everywhere in between
Brendan Finucane QC, Chair of Art Partners
75% of Art Fund grants support museums and galleries outside of London, and our Art Partners events programme shines a light on brilliant collections across the UK.

On a recent trip to Charleston in East Sussex, Art Partners were able to hear from director Nathaniel Hepburn about the impact of Art Fund's help to acquire the Famous Women Dinner Service, a collection of 50 hand-decorated plates by Vanessa Bell and Duncan Grant, and how significant these works are in showcasing the history of Charleston's bohemian residents to visitors.
Together, we help museums to
inspire everyone